2020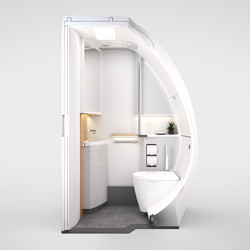 ST Engineering Access Lavatory
Acumen partnered with ST Engineering to design a truly accessible narrow-body lavatory called 'Access'. The new lavatory design for passengers with reduced mobility (PRM), features a unique moving wall that enables the interior space to expand by 40% from a standard lavatory footprint creating an environment perfectly suited to PRM's without a reduction in seat count.
2019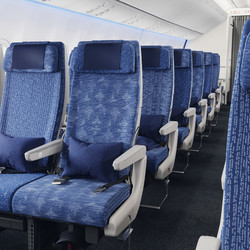 All Nippon Airways B777 Cabin Interior
ANA chose Acumen to be their design partner for the complete cabin interior design for their long-haul fleet. The project focused on the new buy B777-300ER and B777-9X aircraft. Acumen led the design of all the seating, galley entrance areas, social spaces and cabin interior design across all the airline's four cabin classes. Over the five-year project, Acumen worked in close collaboration with Kengo Kuma, internationally renowned Japanese architect, to create a radical new look and feel for the ANA customer experience.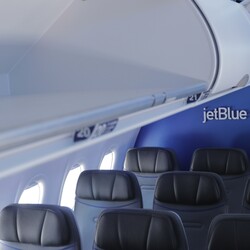 JetBlue A321 Cabin Interior
Acumen was selected by jetBlue to develop a fully customised A321Neo cabin interior to raise the narrow-body experience to wide-body standards. The new A321Neo HD was launched in Sept 2019 incorporating one of the most customised line fit interiors by Airbus. The new interior showcased the next generation of jetBlue aircraft interiors for the next ten years and serves as precursor to their future strategy to begin flying from New York to London.
2018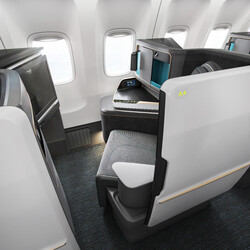 Adient Ascent Business Class seat
Adient approached Acumen to help them achieve their business objective to enter the aircraft interiors market. Adient one of the world leaders in the design and manufacturer of automotive seats recognised an opportunity to grow their business in the aircraft premium seating market. With the aim of delivering automotive - quality fit, finish and comfort to aircraft interiors, Adient Aerospace launched Ascent, designed by Acumen, at the Hamburg Aircraft Interiors show in 2019. Ascent is an advanced premium lay-flat seating system that has an innovative and modular design approach at its core.
2017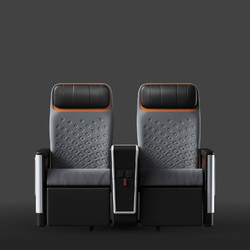 Heaco Vector seat platform restyling
Acumen was approached by HAECO Americas to restyle the Vector™ platform seating product range. The aim was to create a more consistent design language and develop a 'product family' across Shorthaul and Longhaul economy. HAECO also wanted to introduce a new single aisle Business Class seat product called Vector™ Premium that would utilise the same seat platform and components. The aim was to raise the perception of HAECO as a more design conscious seat manufacturer and differentiate their products further within the highly competitive seating sector.
2016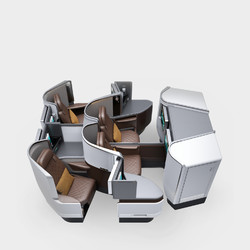 Optima Business Class platform seat
In 2014 Acumen identified an opportunity to generate our own IP, and created one of the most space efficient , all aisle access business class seats in the market. Acumen self-funded the concept in-house independently of a seat vendor or airline. Recognising the significance of the 'big idea' Acumen successfully secured international patent protection, and in 2016 United Airlines was the first airline to select the concept for its business class relaunch called Polaris. Subsequently Acumen and Zodiac Seats UK (now Safran) jointly developed the concept to create the platform product called Optima.
2015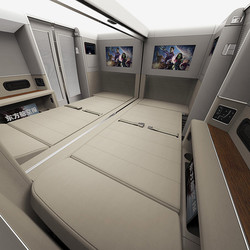 China Eastern B777 First Class Suite
Acumen has reimagined the highly successful 'Venus' platform for China Eastern's new B777 fleet. The fully enclosed suites incorporate a new contemporary colour pallet and custom-designed features, including sliding doors, full-length closet and a double bed (centre suites).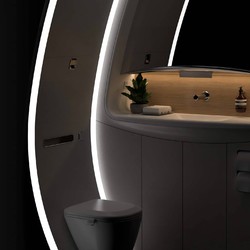 ARC - Modular lavatory upgrade system
VT Volant now part of ST Engineering approached acumen to create a modular lavatory upgrade kit. With legacy bathroom interiors on the Boeing 777 more than 15 years old, many of these aircraft are scheduled for maintenance improvements in the coming years. The Arc lavatory upgrade system has been purpose built for the B777 in anticipation of a strong market demand for interior enhancements.
2014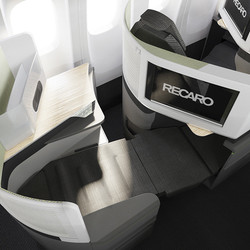 Recaro 'Flexi' High Density Business Class Seat
Acumen developed and patented a modular seating layout for a HD Business Class seat for Recaro. The forward-facing seats are staggered and gently cantered to offer every passenger a fully flat bed and individual aisle access in a high-density cabin. The product is now part of Recaro's product catalogue CL6710.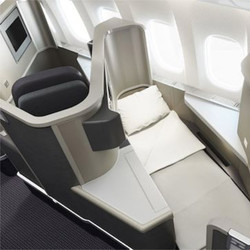 American Airlines – 'New' Business Class
After two years of conceptualising and customer research, American Airlines elected to develop Acumen's patented radical fore and aft business class cabin configuration concept launched at the Aircraft Interiors Expo in Hamburg 2014. Final styling and product branding formed part of JPA's expanded corporate brief.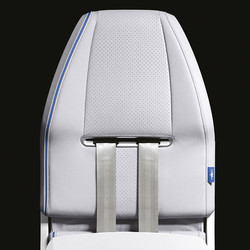 UTAS Cabin Attendant Seating
Acumen has worked closely with UTC Aerospace Systems (UTAS) to develop customisable on-wing seat refurbishment packages that deliver a class-leading automotive level of fit, finish and finesse to an otherwise utilitarian cabin element. The upgrade kits were exhibited at the Hamburg Aircraft Interiors Expo and will be ready for delivery in December 2014.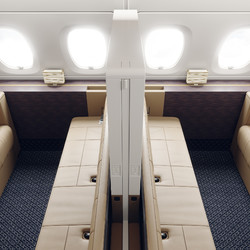 Etihad A380 – 'The Apartment'
Working as part of a design consortium on the A380 and B787 interior, acumen conceived this First Class cabin the A380 boasting the first single-aisle product to be installed in a wide-body aircraft. The aim was to recreate a boutique hotel experience in the air. The class-leading footprint of the suite allows a 30-inch wide seat, a separate 26-inch wide bed, vanity unit and adjoining suites with double beds. See full case study and News.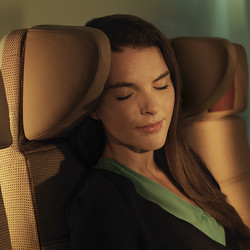 Etihad A380 & B787 Economy Class Seat
Acumen redesigned Zodiac's 5751 economy seat for the historic Etihad flagship A380 fleet and B787 fleet. The new 'fixed wing' headrest design came out of customer research to replicate 'a window seat for all' and provide a supportive surface to rest your head against without disturbing your fellow passenger. The seat was further restyled to incorporate the latest generation of IFE equipment for specific customer requirements.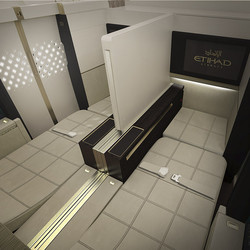 Etihad B787 First Class Suite
Conceived by Acumen to compliment the A380 flagship suite, this was the first First Class cabin flying on a B787. The unusual patented cabin layout consists of forward and aft facing seats, and uses a curved aisle to maximise width, where the passenger requires it most. This layout feature also helps smoothly integrate the suites into the B787 cabin architecture.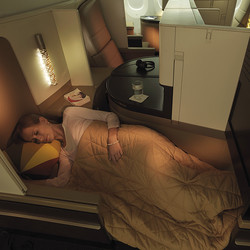 Etihad Flagship A380 – 'The Business Studio'
This unique and original blue-sky seating layout was conceived by Acumen for Etihad back in 2009. The forward and aft facing seats nest in a way that allows every passenger a fully flat bed, individual aisle access and provides a class-leading level of personal space.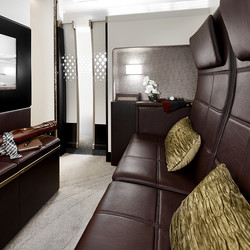 Etihad Flagship A380 – 'The Residence'
Redefining air travel with a new class of flight, this ground-breaking product is the first VIP offer to be developed for a commercial wide-body aircraft. Comprising a private lounge with a 60-inch wide sofa, a completely enclosed bedroom with double bed and en-suite shower, it has been in development over the last five years.
2013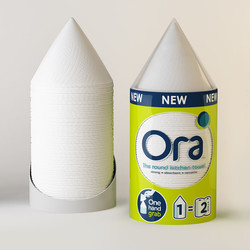 The round paper towel was co-invented by Acumen, bringing the first genuine shake-up to the kitchen towel sector since it started. Being stacked conically, the towels eliminate the need for an inner cardboard tube, allowing the customer a one-hand grab and saving space on shelves and transport. The product has been sold in most UK supermarkets since 2013 and will be rolled out in US and beyond.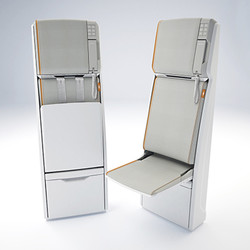 Acumen worked in close collaboration with a fortune 500 company to improve the comfort and styling of cabin attendant seats. This B787 show seat was well received at the 2013 Hamburg Aircraft Interiors Show by customers who appreciated the more stylish design of this neglected cabin fixture.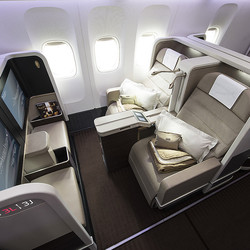 Saudia B777 First Class Suite
Based on one of B/E Aerospace's popular platform suites Super Diamond, Acumen redesigned the product to meet Saudia's specific requirements, working closely with Honour Branding to incorporate a new colour pallet befitting a modern Arabian airline.
2012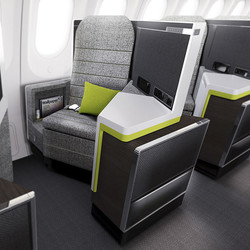 Modulus Business Class Seat
Developed with Zodiac Seating UK as part of an ongoing blue-sky programme, Acumen invented a modular seating system that gives passengers the option of nine different configurations for their comfort and ease. This flexible high-density product has a range of interchangeable elements such as monitors, storage solutions and other passenger-friendly features.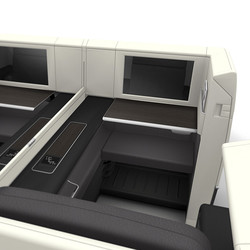 Air China First Class Suite
Based on the ever popular 'Venus' platform, the Air China suite was developed primarily for their B777 fleet. The suite was redesigned to meet Air China's unique customer requirements and in accordance with their brand guidelines.
2011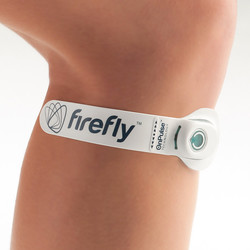 Powered by OnPulse™ technology, the geko™ and firefly™ devices stimulate the perineal nerve, which in turn contracts the calf muscle creating a substantial increase in blood circulation. These simple disposable devices have been proven to provide a number of beneficial effects such as the prevention of DVT, accelerated wound healing, enhanced athletic performance and muscle recovery.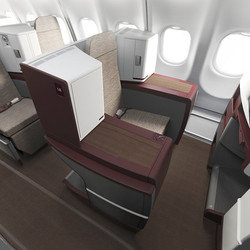 Jet Airways 'Vantage 2' BC
Jet Airways approached Acumen to redesign Zodiac UK's 'Vantage' business class seat. With a focus on ease of use and a simplification of the production method, 'Vantage 2' features a novel sliding table design, improved storage and reproportioning of the seat.
2010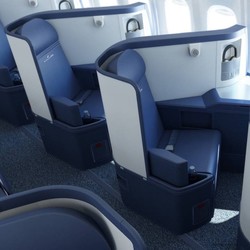 Delta "Cirrus" Business Class
The redesign of Zodiac's 'Cirrus' seat for Delta involved maximising passenger space, applying Delta's brand identity and simplifying the look and feel of the whole cabin. Acumen was also responsible for managing complex interfaces between various interior components.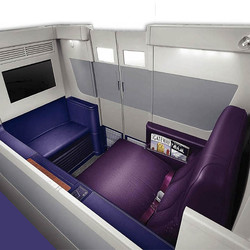 Following China Southern's selection of the 'Venus' first class seat platform, Acumen was tasked to adapt it from 'seat' into a more private 'suite' with sliding doors. As part of the process, all exterior surfaces were restyled in keeping with the airline's corporate identity.
2009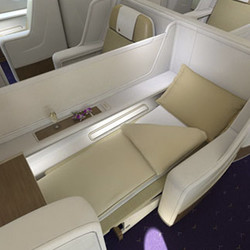 Thai Airways' 'Royal Suite' First Class
The 'Royal Suite' was based on the highly successful 'Venus' platform manufactured by Zodiac Seating UK. Many features were tailored to bring it in line with Thai Airways' specific branding guidelines and customer profile.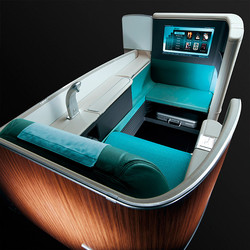 The Korean Air 'Kosmo' First Class Suite
Acumen were appointed as Korean Air's designers of choice to design and develop a blue-sky first class suite like no other. The key element of the brief demanded an 'open-feel' to the cabin when first boarding, which could transform into a private enclosure at the touch of a button. This suite has proven most popular with Korean Air's premium passengers.
2008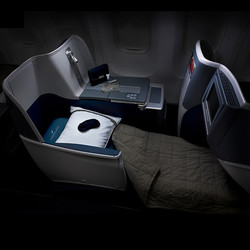 Delta 'Vantage' Business Class
For many years, Acumen was responsible for Delta's cross-fleet styling and design. When Delta selected the Thompson 'Vantage' Business Class product in 2007, Acumen was naturally responsible for bringing the look and feel of the seat in line with the rest of the brand identity.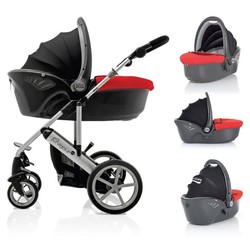 Britax 'Baby-Safe Sleeper'
Working closely with the Britax Research Institute, Acumen designed and developed the world's first fully compliant in-car safety cot for babies up to nine months. Britax enjoyed award-winning success with this first ever lay-flat auto carry-cot to pass industry front and side impact tests with a 5 out of 5 safety rating.
2007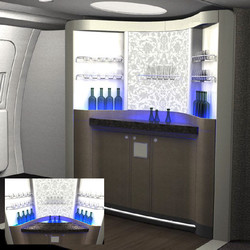 Jet Airways B777 Bar Unit
This bar area was designed and developed to provide a premium stretch area to complete Jet Airways' B777 business class cabin.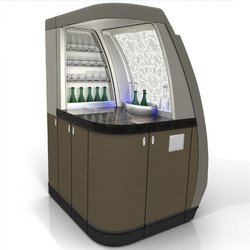 Jet Airways A330 Bar Unit
This bar area was designed and developed to provide a premium stretch area to complete Jet Airways' A330 business class cabin.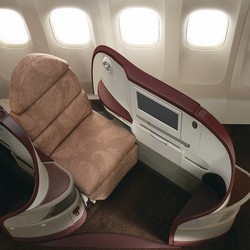 Jet Airways 'Solar Premiere'
Based on the Zodiac's 'Solar' seat designed for Air Canada, Jet Airways' new and enlarged business class lay-flat seat was optimised for their B777 and A330 fleets. Features include a 23-inch wide seat and bed plus a larger monitor.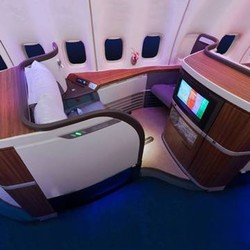 Cathay Pacific's First Class Suite
A blue-sky design study led to the ultimate first class experience for Cathay Pacific, and they were awarded the prestigious Skytrax award for best first class in 2008. For the first time, passengers could enjoy a super-wide bed and seat with integrated en-suite closet.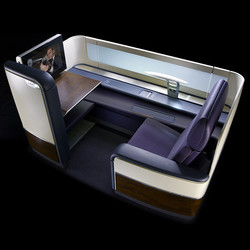 'Venus' Super First Class Suite
Acumen were commissioned by Zodiac Seating UK to design a modular super first class platform for launch at the Hamburg Aircraft Interiors Expo 2007. The suite contains a series of original features such as a powered ottoman, a permanently deployed sliding table and a power assisted privacy screen. Several highly customised iterations of Venus are flying today.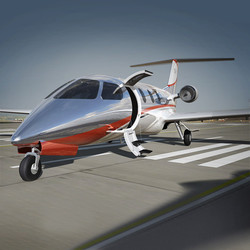 Another blue sky development by Acumen, the Talon business jet programme aimed to understand and redefine what business passengers want from their jet experience. The design went from first sketches through to a full-size spatial mock-up.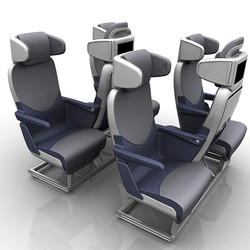 'Freedom' Revolutionary Economy Seat
'Freedom' is a ground-breaking economy seat that positions passengers in opposing directions, increasing personal space by overlapping adjoining armrests. Finalist in the 2005 Crystal Cabin Awards, it garnered worldwide press exposure including coverage by BBC TV, USA Today and German terrestrial TV, among others.
2005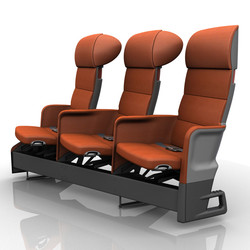 Developed in partnership with Thompson Aero Seating, the Cosy Suite is a disruptive approach to economy class seating. Its staggered layout improves comfort and privacy without any loss of seat count to the airline.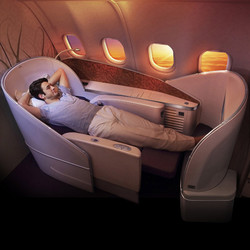 This elegant FC suite was derived from the Air France Espace Premiere and tailored to meet the specific requirements of China Southern Airlines.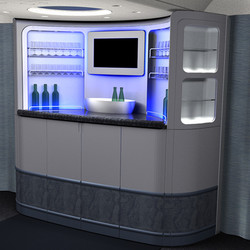 This bar area was designed and developed to provide a premium stretch area to complete Air Canada's B777 business class cabin.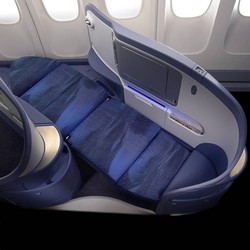 Air Canada 'Solar' Lay-flat Business Class Seat
Building on the established success of Acumen's prior herringbone cabin layouts, Zodiac Seating UK asked Acumen to develop an inboard facing herringbone variant as part of a pitch to Air Canada. With individual aisle access and class-leading bed length, this product went on to fly with Delta and Jet Airways.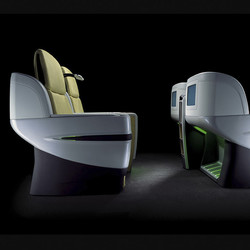 'Horizon' Business Class Show Seat
Launched at Aircraft Interiors Expo in Hamburg 2005, The 'Horizon' show seat was developed for Zodiac Seating UK. Seamlessly blending passenger comfort and style, it has been a highly successful product in their premium seating catalogue, with SAS (Scandinavian Airlines System) being the first of many customers.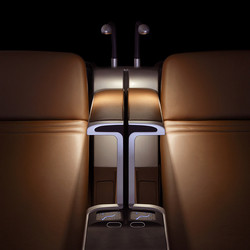 'Aura' Lay Flat Business Class
Another commission from Zodiac Seating UK resulted in a business class show-seat being launched at the Hamburg Aircraft Interiors Expo 2005. 'Aura' has already been successfully launched with over ten airlines and continues to attract new customers, making it the most successful product on the Boeing 787 catalogue.
2004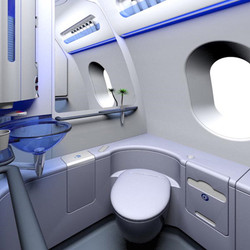 Jamco B787 Lavatory Concept
JAMCO chose Acumen's concept design for their successful B787 bid to Boeing following a competitive pitch. Acumen built a full-size development mock-up to evaluate the new layout. The maintenance friendly and simply packaged configuration hugely enhanced the sense of space.
2002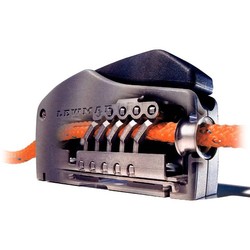 Lewmar – 'Super Lock' Rope-Clutch
During a highly rewarding and long-standing commercial partnership with Lewmar, Acumen created a vast range of high-performance deck-hardware for the elite sailing community. The Dame Award winning 'Super Lock' rope clutch featured a patented controlled release mechanism that's also kind to ropes with optimal grip.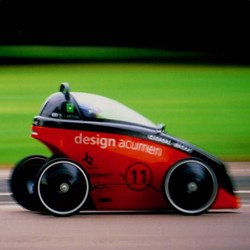 Not every design needs to travel at supersonic speeds to win. Following extensive wind-tunnel and development trials, Acumen's soapbox raced against a blue chip field of automotive companies at the famous Goodwood Festival of Speed. In front of an audience of 140,000, Acumen was placed second with a max speed of 57 mph, runner-up only to McLaren.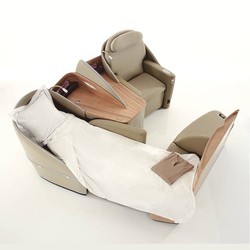 Air France 'Espace Premiere' First Class
Acumen was commissioned by Air France to create a first class cabin suite inspired by classic furniture design. Still in operation today, 'Espace Premiere' provides a sophisticated, understated first class travel experience.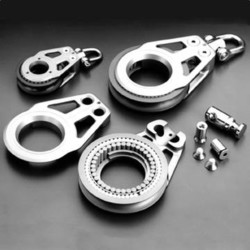 Lewmar – Ocean Racing Block System
Acumen created the Dame Award winning range of over 100 pulley-blocks used by all competitors in the America's Cup. The patented swivel-bayonet mechanism reduces considerable weight and maintenance while delivering optimum performance.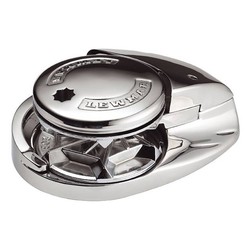 As part of an extensive range development, Acumen were tasked with introducing new materials to reduce weight and cost set against significant improvements in performance. The stylish range of windlass incorporates a new visual language and a refined 'gypsy' to improve grip.
2001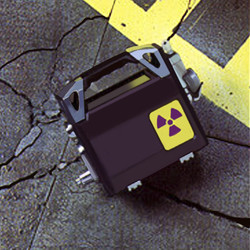 Sentinel 460 Gamma Radiography Projector
This industrial instrument was redesigned by Acumen for ease of use and production, while retaining many pre-licensed components. The fail-safe and bomb-proof design had to adhere to the most stringent of performance criterion as defined by AEA.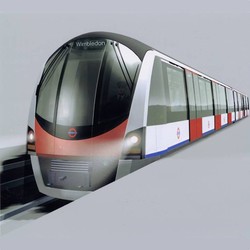 London Underground – District Line Upgrade
As part of a competitive bid to upgrade the District Line fleet, Acumen produced a range of radical interior design and styling options. These formed part of strategic discussions with London Underground.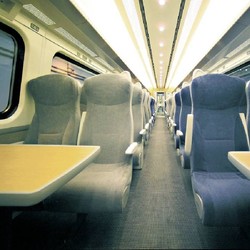 GNER "Mallard Mk4" Train Interior Refurbishment
A £30 million refurbishment tasked Acumen and JPA with the total redesign of GNER's high-speed train interiors. Launched to great acclaim by the Queen in 2001, it remains in service today.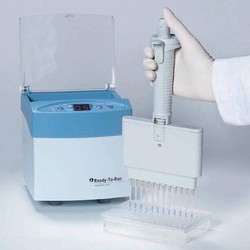 Acumen was appointed by Amersham Pharmacia to develop a house-style for all laboratory instruments. Working with top research scientists, the AP Biotech protein processing system successfully combined updated design and simplified usage.
2000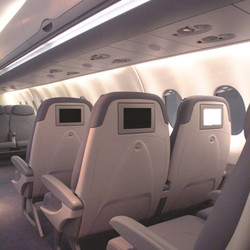 Alliance Aircraft Corporation – Starliner Regional Jet
Acumen were commissioned by Alliance Aircraft Corporation to design and build a full-size promotional jet interior in just 12 weeks from conception to installation in the US. The comprehensive work-scope included cabin linings, windows, overhead bins, galley, lavatory, cockpit, concept seating and external livery.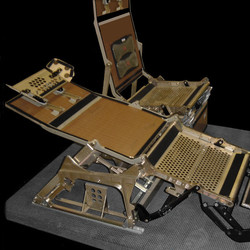 'Eclipse' Lay-flat mechanism
This patented, angled lay-flat seat mechanism was invented and prototyped by Acumen for Zodiac Seating UK, and has subsequently become a generic platform for many successful seating products. It is still being sold today in a number of in-line business and first class cabins.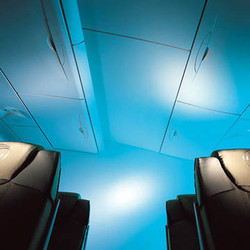 A380 Cabin Interior Definition
Acumen beat the world's most prestigious studios to provide the concept definition of the Airbus A380 interior. The design was tested and reviewed using full-size mock-ups at key stages. Features included integrated articulating bins which greatly enhanced the feeling of space in the cabin environment.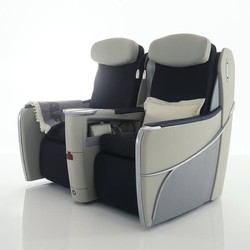 Air France Business Class
In collaboration with their branding house, Acumen effected a complete restyle across all of the Air France business class cabins, including the bar, changing rooms and bathroom enhancements.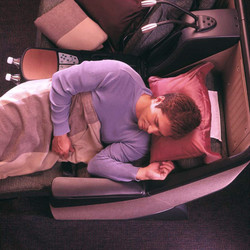 Cathay Pacific 'Eclipse' Business Class
Cathay Pacific's angled lay-flat business class seat was designed by Acumen in collaboration with Zodiac Seating UK. The seat features the Acumen-designed 'Eclipse' seating mechanism, which later became the platform for Zodiac's 'Aura' business class seat.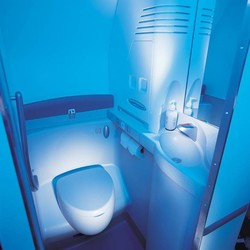 Dasell B737 Lavatory upgrade kit
Dasell worked with Acumen to refresh all their lavatory modules. The challenge was to create an entire set of new aesthetic components, while retaining the core structure and functionality.
1998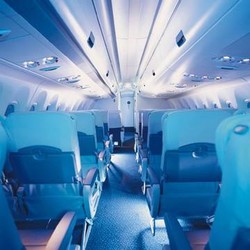 Fairchild Dornier 728 Regional Jet Interior
Commissioned to design and build a full-size sales mock-up for the worldwide launch of a 75- seat regional jet at Farnborough Airshow, Acumen set the standard for all ongoing range development. The project was completed in just 13 weeks from conception.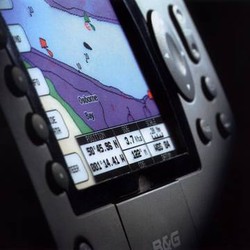 Brookes & Gatehouse H100 marine navigational system
B&G provide instruments of choice for the elite boating market, and Acumen has provided a comprehensive design service for them, spanning all aspects of product development. The H100 formed part of a branded range of smart, intuitive navigational instruments.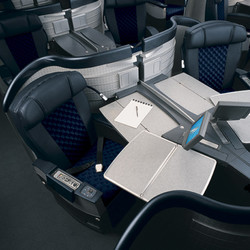 American Airlines 'Signature' First Class Suite
Acumen developed the world's first swivel lay-flat seat in commercial aviation. Providing a flexible work/sleep/dining environment, it introduced the ability to adopt a face-to-face work and dining position that remains popular today.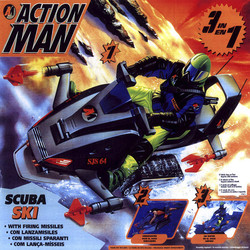 Acumen enjoyed working with Hasbro on many quick turnaround projects including styling and detailed component design for the Action Man 'scuba-ski'. It went on to become 1998's best-selling boys' toy in the Hasbro range.
1997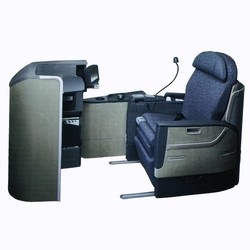 United Airlines First Class Cabin Seating
Unsurprisingly, after designing BA's 'Bed in the Sky', Acumen was approached by United Airlines to design an even higher spec lay-flat bed with bespoke elements such as ottoman storage, expanded work surface and a swing-out monitor.
1995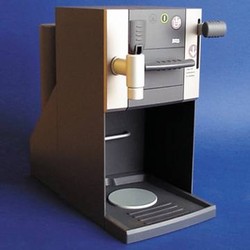 Developed for Sell Galleys, part of Premium Aircraft Interiors, this design answered the requirement for a lighter and more stylish drinks maker using state of the art aircraft-approved materials.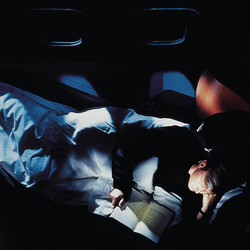 British Airways 'Bed In The Sky'
The first ever lay-flat bed in aviation history was invented by Acumen. This ground-breaking product didn't just win every design award going, it revolutionised the aircraft interiors industry, blazing the trail for the lay-flat premium seating we know today.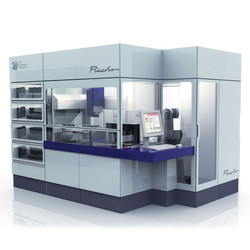 The Automation Partnership
Critical ergonomic analysis resulted in Acumen's complete reconfiguration of an all glass hygienic enclosure for a high-performance life science clean-room.
1990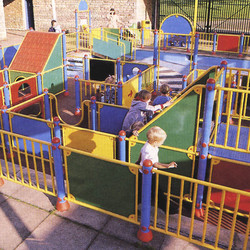 This ground-breaking flexible playground for 2 – 7-year-olds was developed in conjunction with child psychologists. The fence-like primary structure forms a modular system that features an imaginative range of activity inserts. This system won numerous industry awards and was selected for the Brisbane Expo 1990.
1989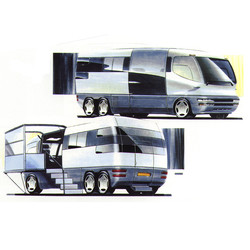 This led to a range of future-facing, conceptual designs for a lifestyle caravan. Aimed at a younger, more adventurous generation, these were equipped with multi-functional capabilities with a view to outdoor pursuits.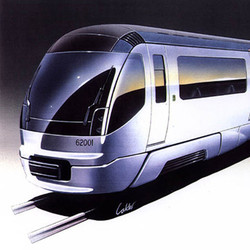 Advanced Designs for Urban Light Rail Systems
Acumen pioneered the use of new materials, improving passenger safety, information displays and driver controls.
1988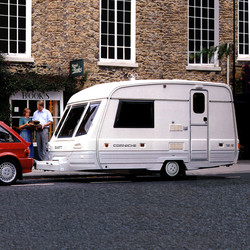 Swift wanted to move away from the traditional 'box on wheels'. Acumen used their extensive automotive design experience to completely restyle the Corniche, Challenger and Rapide caravan ranges.
1986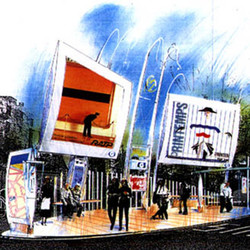 Wanting a range of street furniture across 60,000 sites throughout France, Giraudy set an international design competition. Acumen's winning design included lighting, seating, shelters, billboards and smart-displays. The concept was based around polished stone primary structures, sculpted from a variety of regional stones.
1984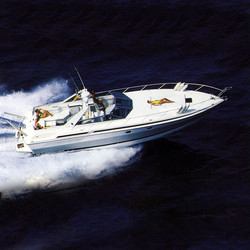 The producer of Europe's premier range of powerboats was looking for a complete design service. Acumen's interior design, exterior styling, detailing and livery helped Sunseeker break into the worldwide market and win a Queen's Award for export.
1983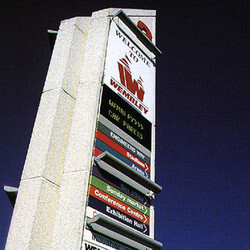 Wembley Stadium Information Displays
The start of an extensive programme to provide clear signage with a strong identity for the stadium complex, Acumen developed specialised concrete castings for 10m columns, self- skinning rigidised foam structures and linked electronic displays.
1981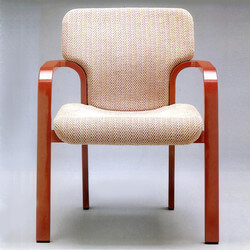 Where it all began. Hille International commissioned Acumen to develop a range of furniture showcasing the aesthetic and structural possibilities of a new bent-wood lacquered manufacturing process. This iconic product designed by Peter Murdoch and Ian Dryburgh went global, selling successfully for many years.