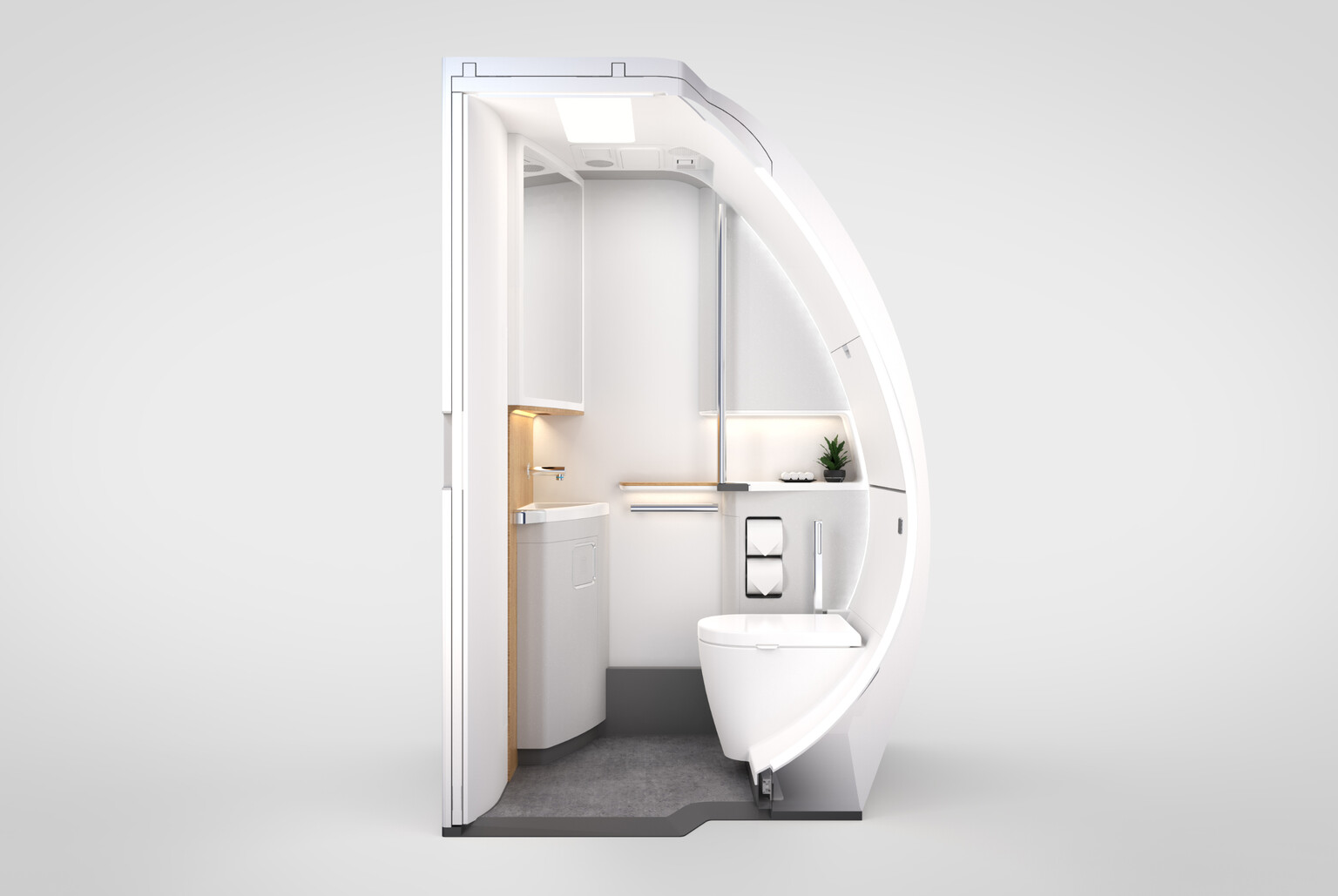 Access
Accessibility for all without compromise
Acumen partnered with ST Engineering to design a truly accessible narrow-body lavatory called 'Access'. The new lavatory design for passengers with reduced mobility (PRM), features a unique moving wall that enables the interior space to expand by 40% from a standard lavatory footprint creating an environment perfectly suited to PRM's without a reduction in seat count.
Design Objective
Expansion in the design and manufacture of aircraft interior products
ST Engineering are well established in the market as a high quality, reliable MRO provider looking to expand their investment further in the design and manufacture of aircraft interior products in addition to their burgeoning seat offering. Acumen identified the PRM narrowbody market as a great opportunity to enable real change by offering the market a disruptive and innovative product.
The Challenge
Deliver a truly accessible lavatory without impacting seat count
For reasons of economy and flexibility, many airlines are turning to the new breed of narrow-body aircraft to service mid-range and long haul routes which have been traditionally the realm of wide body aircraft. Unlike wide-body aircraft there is currently no legislation and therefore little provision for accessible lavatories for PRMs, resulting in real pain points for many disabled passengers. In our initial research with PRM users we learnt about their distressing and sometimes inhumane experiences whilst flying, with many resorting to pre-flight starvation and dehydration to avoid the toilet at all cost.
For most airlines seat count is crucially important , but never more so than in narrow-body aircraft. The minimal number of existing "PRM" lavatory offerings are therefore often far too small to be truly usable. ST Engineering and Acumen set out to address this need – delivering a truly accessible lavatory without impacting seat count that could be easily retrofitted and potentially line fitted to new aircraft orders.
Perhaps the greatest challenge of all was to design a PRM accessible lavatory which provides the highest level of dignity for the user, but with minimal impact in the cabin environment.
Acumen's solution
A significant difference to the ease of movement within the lavatory
The seemingly impossible sounding brief was cleverly addressed by the never-seen-before use of a movable wall, creating a large expanded interior space.
When a PRM needs to use the 'Access' lavatory, the controlled expansion is carried out by a crew member operating a latch on the outside wall. The additional space creates a lavatory large enough to allow a passenger in a wheelchair and a carer if needed, to enter and use the facilities with ease. A wide corner door opening is created, along with the perfect L-shape floor space allowing a PRM to transfer easily from the wheelchair onto the toilet.
Detailed research was undertaken during the conceptualisation and design process, with PRM's attending a series of product-testing sessions to provide feedback which has informed every aspect of the final interior design. With each mock-up review we learnt how small changes to the design and additional features could make a significant difference to the ease of movement within the lavatory.
The collective design enhancements were seen to significantly improve the well-being of the PRM user. For example, the precise location of handles and hard surfaces were imperative to be able to grab and use as anchor points for moving from wheelchair to the toilet seat – and full length mirrors gave reassurance that every part of the body could be seen and checked.
"As an independent manual wheelchair user for many years, I've experienced the good and bad of aircraft lavatories. I have regularly flown both long and short-haul for over 25 years and believe there are four main things that can improve the on-board experience: more space, highly sanitised work surfaces, greatly improved physical supports for unassisted transfer and anti-slip flooring."

Mary Doyle

Accessible aviation consultant

Rocket Girl Coaching
In unexpanded form the 'Access' lavatory can be used by non-disabled passengers with the same footprint as a standard module. With no reduction in galley space or existing seating capacity,  airlines are no longer obliged to reconfigure the cabin layout to incorporate the needs of a PRM. Beneficially, by clever use of space and footprint optimisation the interior feels much larger than a standard E-lavatory typically found at the aft door, but with many more discreetly useful features.
The key features of the lavatory include:
A secondary door which can be opened at an angle to create an expanded entranceway (24" wide) for an aisle wheelchair
Vertical, horizontal and fold-down grab bars to make both assisted and unassisted transfer as easy and quick as possible
Lowered sink height to enable use from a seated position
A range of feature lighting which includes curved floor-to-ceiling strip lights
Large vanity and full length mirrors, as well as a side-shelf for personal item
Cutting-edge hygiene technologies - such as anti-microbial surface finishes and touchless faucet and flush mechanisms
The Result
Uncompromised passenger experience for all passengers
Our aim from the start of the project was to create an uncompromised passenger experience for all passengers. Very often the design of PRM lavatory facilities appear basic where function has been the focus over form. We have created a thoughtful and considered space, which is more intuitive and inclusive in its overall design.
"Without question these new lavatories serve a functional need, but they also look beautiful too, and are more in keeping with an excellent customer experience."

Mary Doyle

Accessible aviation consultant

Rocket Girl Coaching
Acumen developed the 'Access' lavatory to a full-sized mock-up which was showcased to the world at the Singapore Airshow in February 2020 on the ST Engineering stand. Subsequent production engineering refinement has been on-going to bring this much needed product to market.
"Our vision was to overhaul the on-board lavatory experience and create an inclusive interior that improved the flying experience for all passengers. Having worked with Acumen to identify the main accessibility issues with current lavatory designs, Access is able to offer airlines an innovative new product that tackles one of the biggest issues faced by disabled passengers when they fly."

Cassandra Sexson

Director of Business Development

ST Engineering