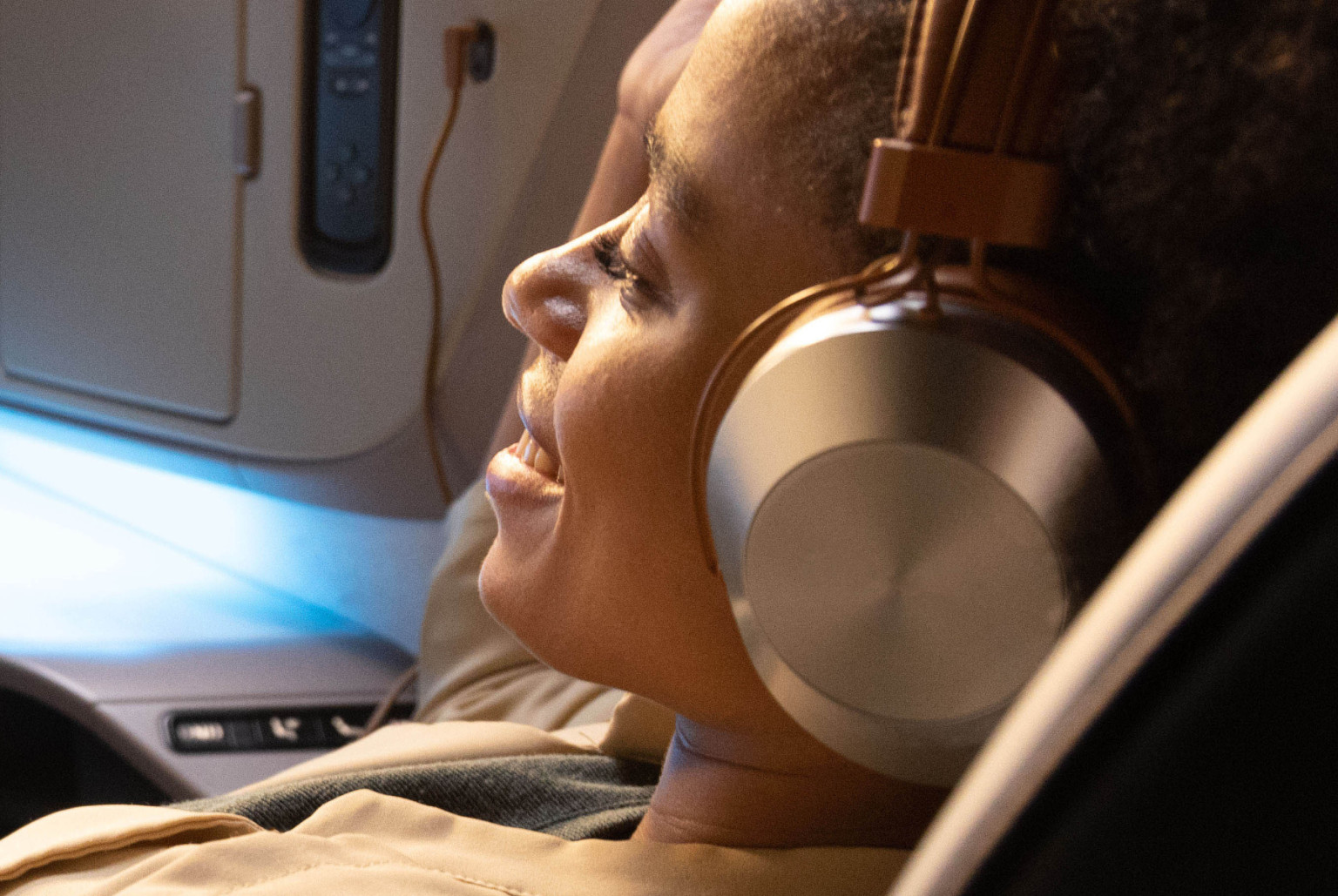 Adient Altitude
A new benchmark for single-aisle lay-flat Business
Building on the success of Ascent, Acumen delivers another innovation in Business Class in partnership with Adient Aerospace – called 'Altitude'. Our aim was to introduce wide-body features to the narrow-body cabin, with an all-new patented seat and composite furniture design configured to provide market leading pax densities.
Adient Aerospace continues to disrupt the aircraft seating sector with their automotive inspired craftmanship , and human centric approach to comfort. Already establishing themselves as one of the fastest growing aircraft interior companies following the successful launch of their wide body business class seating product Ascent – Adient were keen to expand their product portfolio into the long range narrow body sector.
Design Objective
Acumen generated the core idea behind Altitude in house and identified an innovative design solution to maximise seating capacity within a narrow body aircraft without compromising the business class experience. Working in partnership with Adient, the solution was realised into the award winning Altitude seat – setting a new benchmark in the industry.
The Challenge
A high density premium lie flat seat for single aisle aircraft
'Altitude' was specifically designed to meet the growing demand for premium lie flat seating in single aisle aircraft, including the Boeing B737 and Airbus A320 families. Airlines are beginning to operate smaller fuel-efficient aircraft on longer haul routes traditionally serviced with larger twin aisle aircraft. The ambition was challenging, develop a high density premium lie flat seat for these smaller single aisle aircraft, whilst offering the same luxurious features, privacy and living space usually found on larger aircraft premium class products.
Acumen's Solution
'Altitude' was designed from the floor up featuring an all new patented seat and composite furniture design that allows the product to be configured at an incredibly short seat pitch. 'Altitude' offers every premium passenger a long and fully flat bed, within an inboard facing herringbone layout that offers easy access, a window view, and high levels of personal privacy.
Once we had achieved the industry-leading seat density typically enabling an additional row of seats in the cabin, we challenged ourselves to refine the product further to meet the needs and expectations of both business and leisure travellers wanting a quiet, calm environment to work, relax and sleep.
Every 'Altitude' suite offers the passenger direct aisle access and full ownership of all seat controls, lighting, wireless charging, and personal stowage. Individual reading lights and outlets are available within easy reach for laptops and PED charging. The monitor has been thoughtfully designed into the suite furniture and simply rotates out 90 degrees for comfortable viewing in any seated, lounge or bed position.
We also challenged ourselves to provide a two stage sliding privacy door in the compact space to shut out the hustle and bustle of the cabin, and provide a flexible level of privacy as required. The suite also benefits from acoustic noise reduction material to help enhance sleep and dampen the noise from the cabin.
The Result
Altitude's sleek styling compliments the latest aircraft interior design language of the new breed of narrow body aircraft. The new business class seat harnesses every available inch within the cabin to provide each passenger with optimal comfort for sleeping and productivity. Adient's expertise in automotive comfort and craftsmanship processes were applied throughout this project combined with Acumen's world class reputation for delivering patented innovation. Altitude has already been recognised for its design excellence, winning the 2022 Chicago Athenaeum Museum prestigious GOOD DESIGN award and also has been shortlisted for the Cabin Design Award in The International Yacht and Aviation Awards 2023.
For an airline looking to provide an un-compromised passenger experience whilst maximising yield and revenue, 'Altitude' has set a new benchmark which has yet to be equalled.
"We truly value the partnerships and support we receive from Acumen. Adient Aerospace worked closely with Acumen in designing our Altitude business class seating product for narrow-body aircraft. Years of previous collaboration on other products streamlined the process with Acumen translating our design intent into a realized product, nearly all done virtually."

Stephanie Faulk

Director of Sales & Marketing

Adient Aerospace