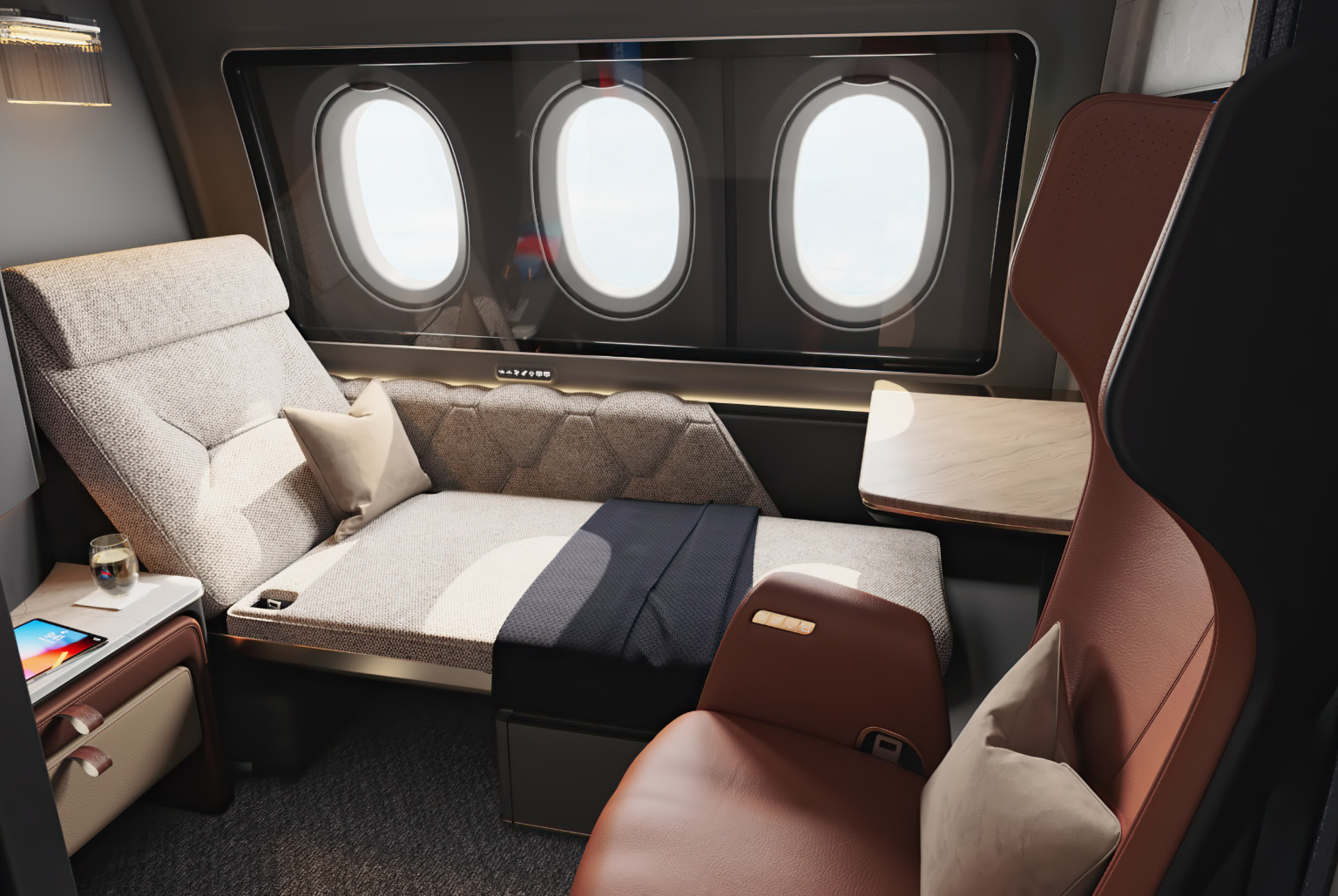 The First Place
Transforming the First Class Experience
At acumen we continue to push the boundaries of how we can improve the on-board passenger experience – so we asked ourselves a simple question – "What could the future of First Class air travel be?"
Background
Acumen has led the innovation agenda within the premium segment of aircraft interior design ever since we pioneered the First 'Flying Bed' for British Airways in 1995. We have also been instrumental in the growth of many of the Super Business Class seat models over the past few years. Working with our partners Counterpoint Market Intelligence we began to notice the impact these new business class seats has had on the First Class sector.
Pre COVID-19 the growth in size and features of the new breed of 'Super Business Class seats' forced many airlines to significantly reduce their First Class seat capacity. Some airlines responded by introducing Super First Class suites fitted to larger aircraft models. A good example of this can be seen in our innovations for Etihad Airways A380 cabin interior where we created a new class of travel with The Residence and the revolutionary First Class Apartments in 2014.
However, the Covid -19 pandemic had a dramatic impact on commercial aviation forcing some airlines to hastily reduce their capacity further or remove First Class totally. Some of which was driven by the early retirement of the A380, and the consequential moth balling of several leading premium products prematurely.
As the market continues to re-set itself following the pandemic, a number of carriers have alluded to new First Class products in development aligned to new aircraft deliveries in the future.
Given these challenging market conditions we focused our thinking on how we could differentiate First Class beyond the new Super Business Class products, and above all how the privacy and exclusivity of First Class travel can be retained without compromise.
Our Objective
The next evolution of the First Class cabin
We set ourselves a challenge to create the next evolution of the First Class cabin that could ultimately be fitted across the full range of wide bodied aircraft types. Our aim was to create a product that would set a new benchmark for the industry, but also offer a consistent product and experience across an airlines diverse fleet, with minimal impact on seat capacity. Above all a total re-think of how luxury can be delivered in a simpler, lighter, more elegant and space efficient manner.
The Challenge
The primary focus in coming up with the new concept was to create a more exclusive and differentiated experience from the Super Business Class seats. It also had to compete with the VIP interior design of private jets, that offered a more luxurious and intimate space. Thus, we focused our brief to transform the cabin into an interior space reminiscent of a private home with a more residential design approach.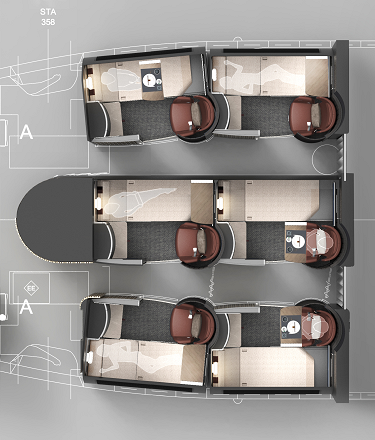 Our experience across many interior programmes had shown that First Class seating had become more complex, heavy and expensive to produce. Traditional First Class seating still had to work hard to transform the seating environment from a place to relax, dine, work and sleep. By contrast, modern day living features multiple dedicated pieces of furniture designed for a specific purpose. However, in an aircraft environment with limited space, the design of the seat is inherently compromised, as it has to serve too many functions.
Our belief is the next generation of First Class seats needs to embrace the approach taken by Etihad and Singapore Airlines in providing a separate seat and bed, but designed in a more space efficient way to fit all wide-bodied aircraft rather than just the A380.
The Solution
Our First Class suite concept which we called 'The First Place' consists of three luxurious private suites across the width of the aircraft – configurable in a three, six, or nine seat layout. It can also be designed to fit four suites abreast if higher seat densities are required, enabling a double suite option in the centre.
Each of The First Place suites contains a separate seat and an innovative chaise-longue that are both certified for taxi, take-off and landing. The separate leather armchair is styled to reflect high end residential furniture. It can rotate and recline to offer not only a suitable take-off position, but also a formal dining and comfortable work position, adjacent to the large one-piece desk/table.
The chaise-longue is the centre piece of the suite environment with a simple and lightweight mechanism to translate from the default 'lounging' position into an uncompromised flat bed with dedicated cushioning for optimised sleep and relaxation.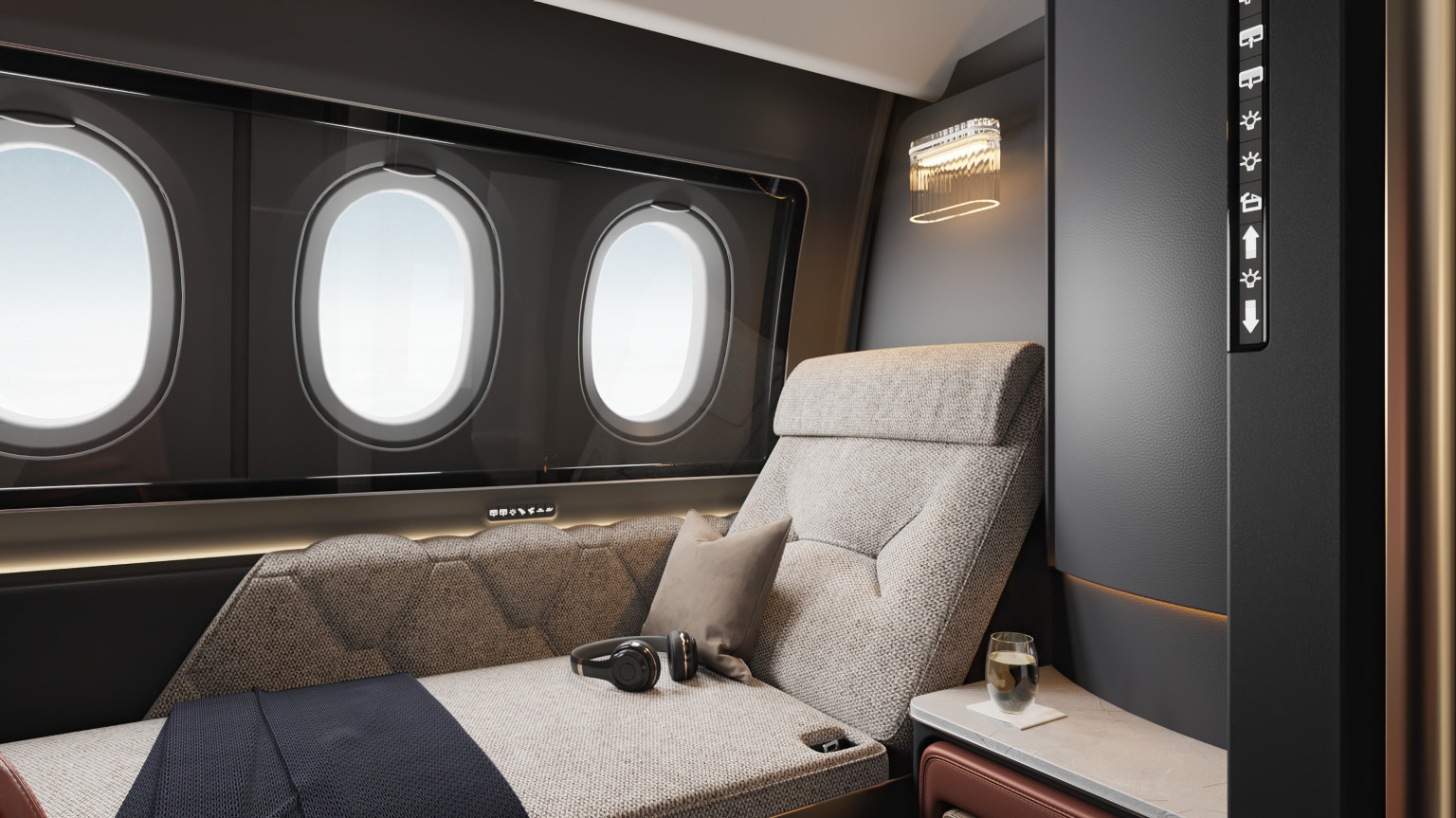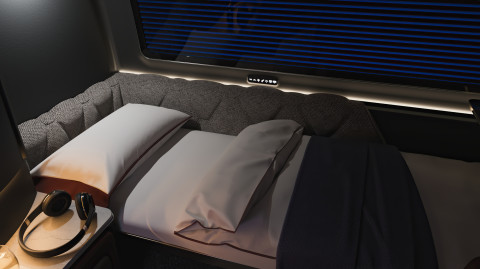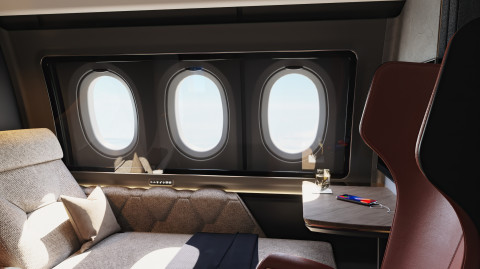 The Result
Privacy and Openness
The unique patented layout of the passenger environment creates a room-like cabin with a perfect balance between privacy and openness. The separate seat and chaise-longue creates an 80" bed length and 28" bed width on a B777 aircraft - offering an uncompromised passenger experience reminiscent of a VIP jet.
Privacy is delivered by a rotating soft wall privacy panel and a single sliding suite door which are operated manually – designed to be simple and give the passenger greater control of the level of privacy they desire.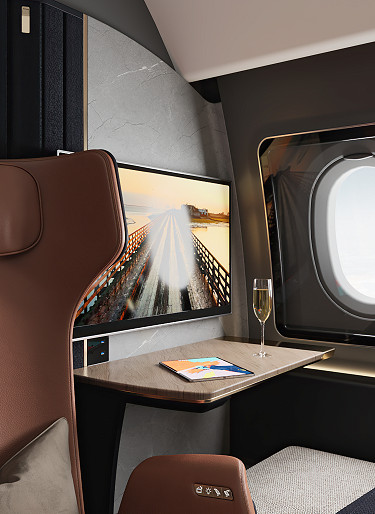 We strongly believe that any technology in the suite had to be intuitive and discreetly integrated as it would in your own home. With surround sound and noise cancelling technology built into the armchair wings, heating /cooling technology incorporated in the chaise-longue, and induction power charging embedded in table /side furniture.
The passenger would simply use a touch screen tablet to control all in-suite powered functionality , including climatic control, lighting, and even hotel style inflight service. The suite also has two monitors for viewing, a large 32 inch LED screen for lounging/ bed viewing from the chaise-longue, and also an 18 inch monitor for viewing whilst seated in the armchair.
The large one-piece table can also slide to any position within the suite, be it formal dining for two or a relaxed 'Breakfast in Bed' – and there is a sliding ottoman/buddy seat that allows dual dining and further relaxations options.
The suite also incorporates substantial stowage opportunities. Most significantly is the space under the chaise-longue which is large enough for carry-on luggage and airline bedding. With so much space it is possible that airlines could remove overhead bins in the First Class cabin entirely, saving substantial weight. There is also a bedside table with a drawer and a large personal wardrobe all lined in luxurious leather, offering space for jackets, shoes, and personal items.
Conclusion
'The First Place' concept is a totally unique patented design which we believe perfectly meets the heightened needs of the future First Class passenger, as well as the airlines desire to offer a consistent product across their network. Above all it brings back exclusivity and differentiation to First Class, creating a private space with greater flexibility to work, rest, and play, but also to enjoy time onboard without compromise.
"As pioneers in cabin interiors it is always very satisfying to create an entirely 'new' premium travel experience based on original thinking and patented innovation."

Ian Dryburgh

CEO / Founder