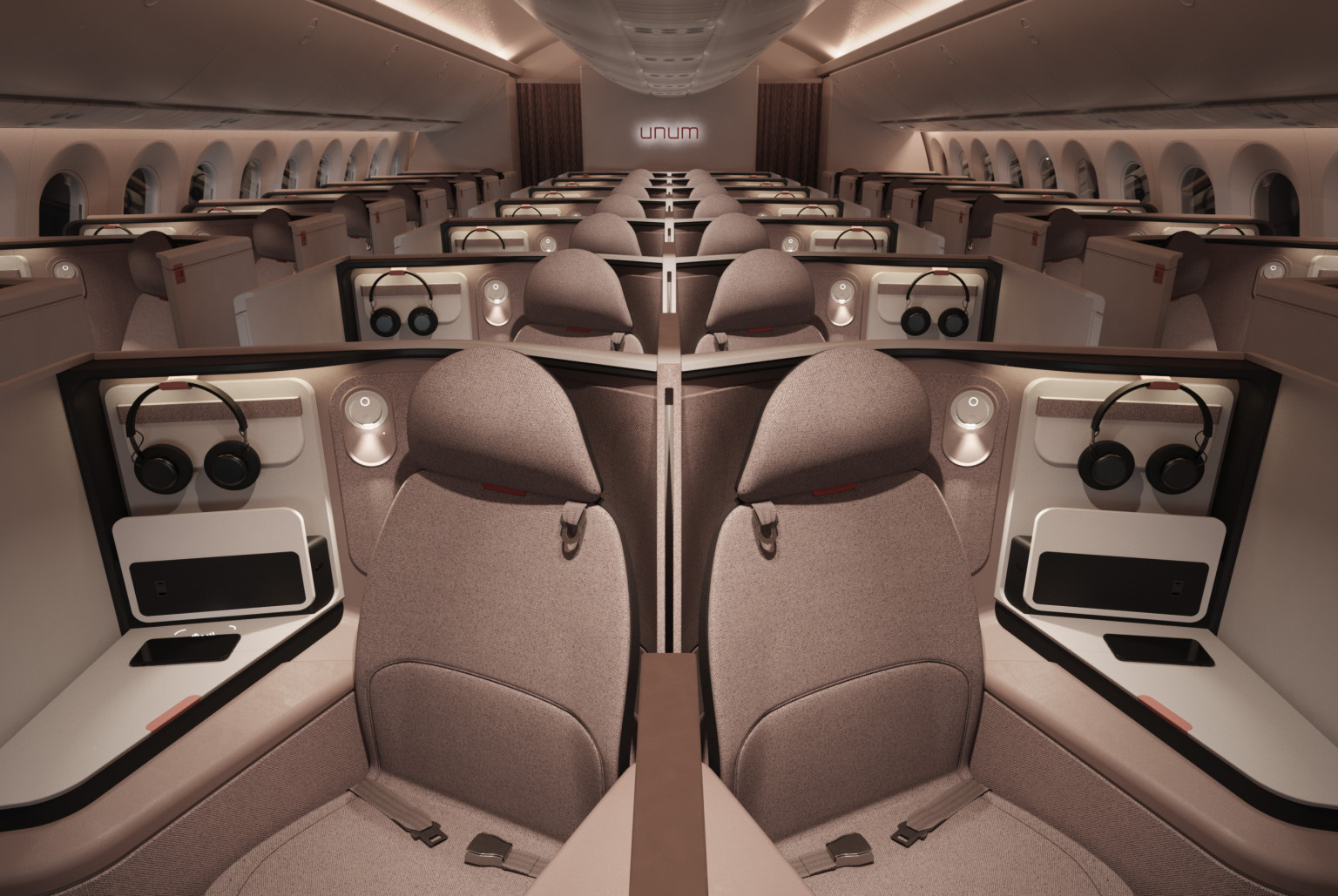 Unum
Reimaginning a seat supplier
In June 2023 Unum unveiled another new product called Unum Two at AIX – which followed just a year after their successful debut launch in Hamburg in 2022 with Unum One. As design partners Acumen has provided continued support to Unum in their quest to become a credible alternative manufacturer of premium aircraft seating which is reliable, comfortable and responsibly made.
Client
Unum Aircraft Seating Ltd
Background
Innovative Business Class products for the retrofit market
In March 2020, founder Chris Brady approached Acumen with a unique vision to establish a new and very different aircraft seating company. He gathered a team of trusted specialists and industry experts who recognised the opportunities for improvement within the industry such as on-time delivery, after sales support and an alternative approach to construction believing there were many shortcomings with the current industry offerings.
With a focus on passenger experience and sustainability, Chris was driven by his valuable learnings from Virgin Atlantic and previous success in founding the economy seating manufacturer Acro. He wanted to create a niche aircraft seating supplier focused on providing innovative Business Class products for the retrofit market, targeting the smaller airlines and smaller projects often overlooked by the much larger existing suppliers – and so Unum Aircraft Seating came to be.
Brand Development
It is a rare opportunity for Acumen to work with a company at the very start of their journey. Our creative partnership began in establishing the Unum brand. Our branding team worked closely with Unum's team to understand their vision, values and strategic objectives for the company. We then translated the insights into a unique brand strategy and distinctive identity, that would stand out amongst other suppliers in the aircraft seating sector.
To create a cohesive visual language for Unum, we started with developing a brand strategy that defined the core messaging, tone of voice and attributes. We then created a brand identity that represents Unum's focus on innovation, quality and sustainability. The typeface creates flow and symmetry which is also reflected in the product design and styling of the seating.
Building on the brand identity, we created a full suite of assets, including colour palette, typography, iconography and imagery guidelines. The colour palette is defined by the distinctive Living Coral pink that gives the brand a more consumer brand look and feel. The typography and iconography is clean and modern conveying Unum's confidence and professionalism. The brand imagery has a distinctive colour palette that uses the warm tones of coral colour to evoke simplicity, functionality and comfort, which are balanced with dynamic images of natural environments to underpin the sustainable values running through the company.
Design Objectives
Unum has a clear and focused ambition around the products they want to create.
A passenger centric product without compromise
Create a family/catalogue of products with a simple but stylish aesthetic across a mixed fleet
Elegant and intuitive mechanisms.
Integrated design and manufacturing strategy to mitigate risks
Utilise new composite technologies and efficiencies
Deliver more space by removing unnecessary structures – less is more
Ease of maintenance and weight reduction throughout
The Challenge
Unum's challenge was to create a family of full lie flat, direct aisle access Business Class seats initially targeted at Tier 2 and niche airlines considering retrofit programmes in lower production numbers. The aim was to create a highly space efficient lightweight seat that could also be economically customised to meet the specific needs of each airline customer.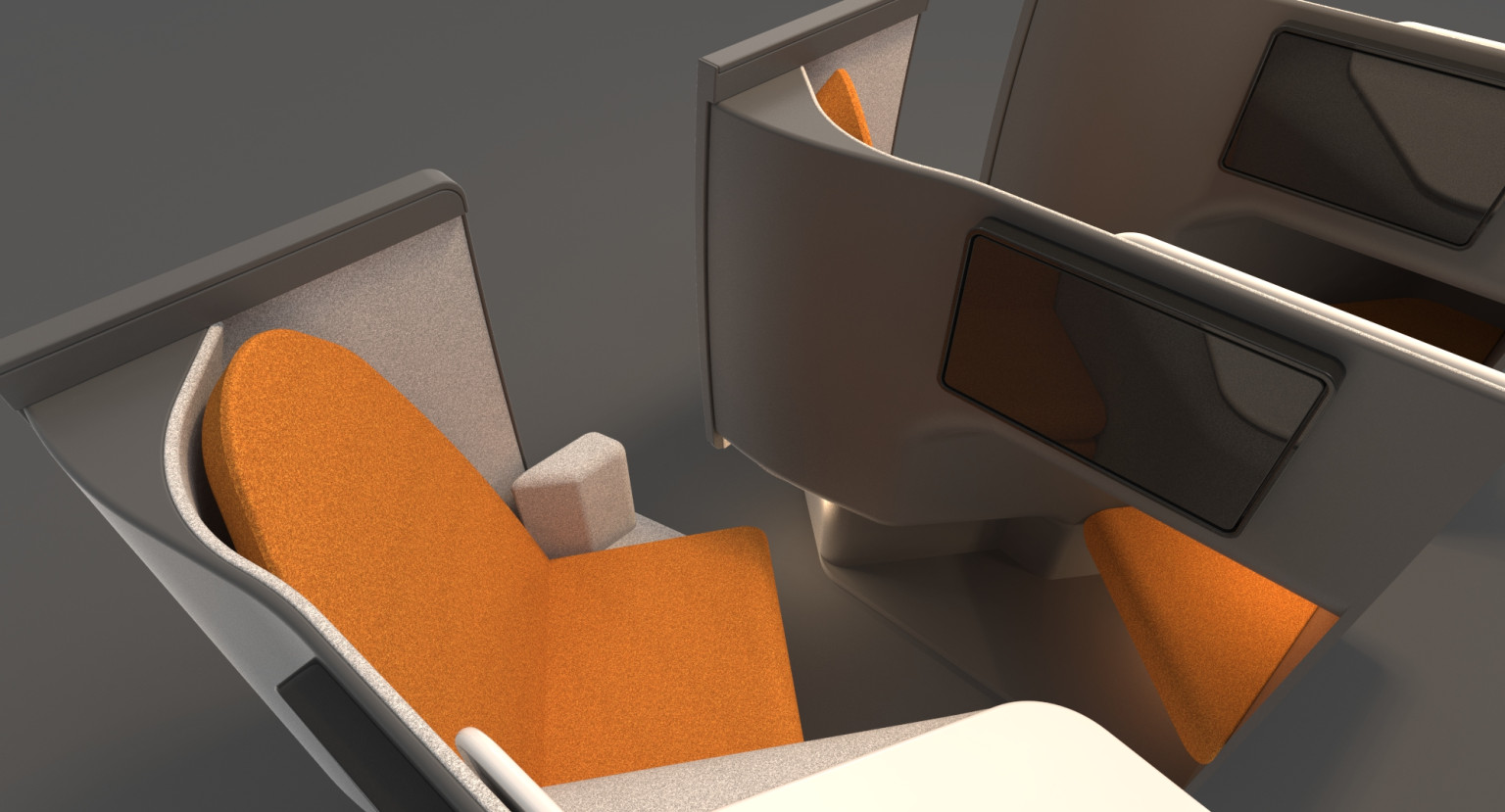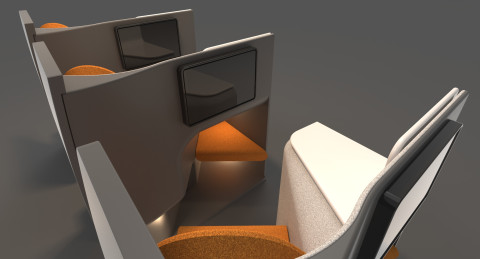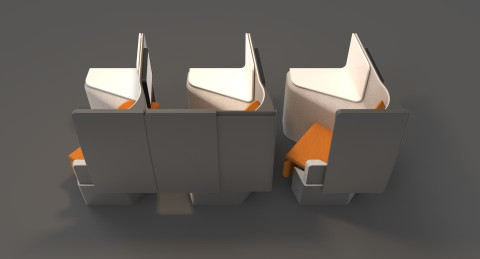 Acumen's Solution
A wide ranging market evaluation and concept phase
As a market leader in the design of premium seating, Acumen has a wealth of experience from previous programmes to bring to the table. Over the past 25 years Acumen has invented many of the Business Class platform products flying today which places us In a unique position to determine the next generational step. After a wide ranging market evaluation and concept phase, a herringbone configuration became the initial focus Unum's core values to be envisioned. Herringbone layouts have wide market appeal and provide a good passenger experience. Acumen invented the first ever herringbone for British Airways in 1995 and multiple variants subsequently for many of the world's leading airlines.
Working in partnership with Unum from day one and with a clean sheet of paper approach, we started by analysing seat track positions. The seat tracks on current aircraft have not changed since the traditional forward facing seat configurations decades ago. Herringbone seating products often need to cantilever to pick up on the seat tracks with complex transitions around monuments driving special furniture solutions.
As well as creating a superior passenger experience, Unum challenged us to create a product that met the technical challenges of installation into the aircraft by using them to our advantage. Giving a priority to seat track locations and consequential structures from the outset, meant angles could be optimised, and lighter structures could be introduced whilst maximising passenger space.
In conjunction, Unum developed the seat kinematics and a unique Zero G seat mechanism that would be the cornerstone of Unum's comfort proposition.
The new 'Scimitar' Zero G mechanism drove new opportunities in the design hitherto unachievable with many standard industry mechanisms. To make the most of the new seat kinematic it made sense to remove as much structure above and around the footwall as possible to encourage unrestricted movement. Utilising a lift and drop single-piece table and pivoting monitor has delivered an unprecedented amount of footwell space for the passenger.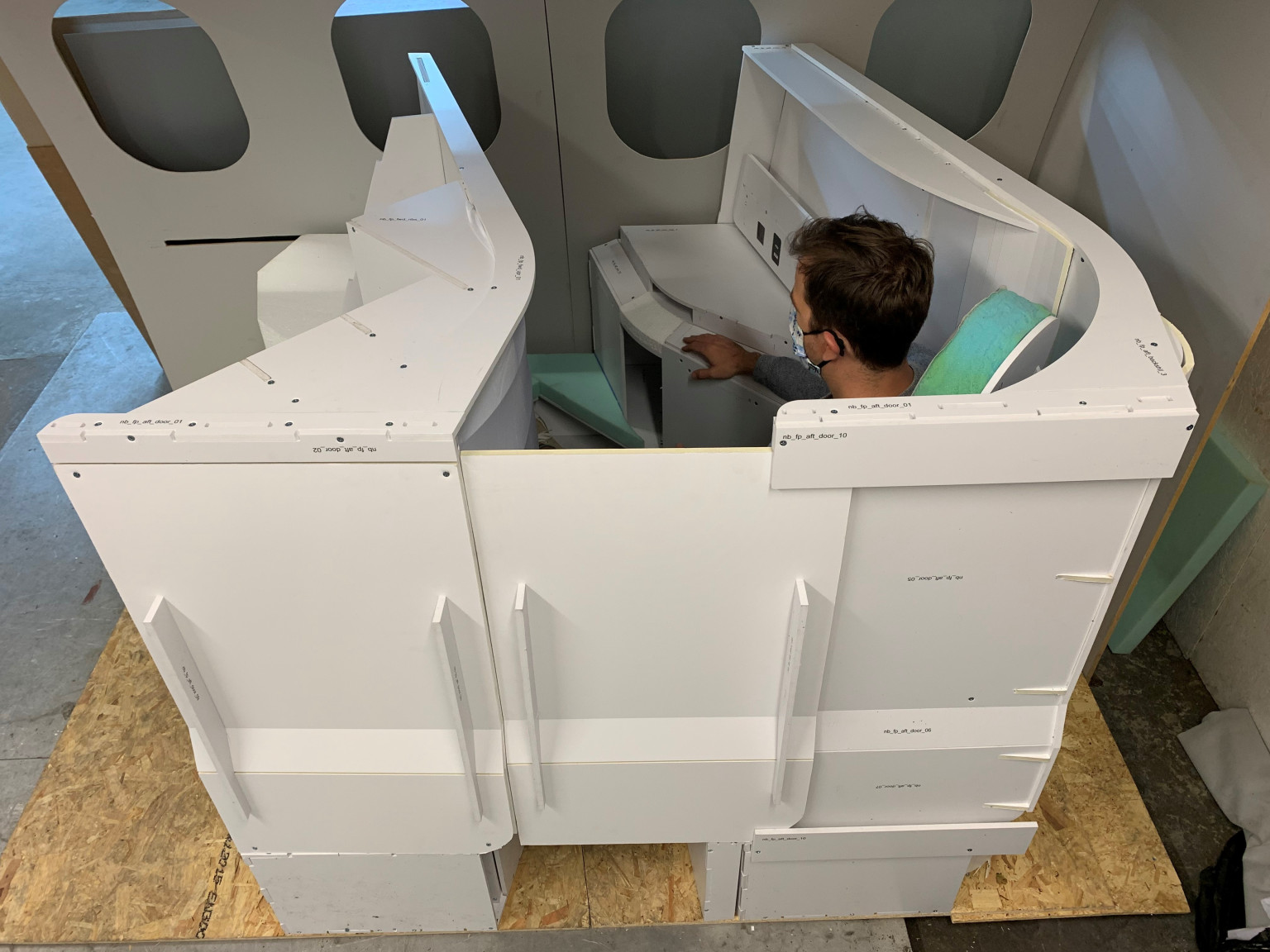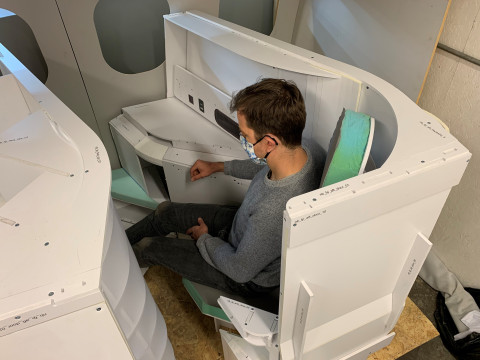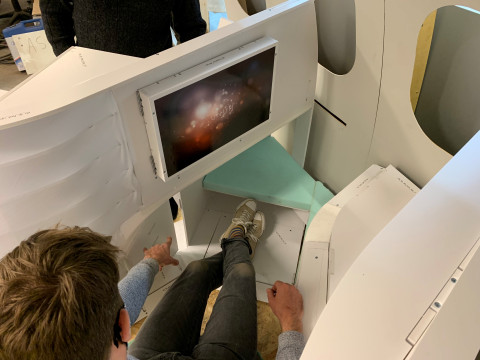 Once the layout and the mechanism had been defined, we continued our development by constructing in our studio numerous full-size spatial mock ups in our studio to maximise the living space for the passenger.
Our unique layout cleverly enables essentially common modules to be re-configured for different aircraft types – tooling can be optimised, part numbers reduced, which enables Unum to offer a highly competitive pricing structure.
Unum ONE was born. Our focus was to keep the product refreshingly honest, with no superficial detailing, keeping the styling clean and simple to reflect a more sustainable approach. Above all the design needed to be simple and intuitive, an approach that would eventually drive a more reliable and robust product that is easier to maintain.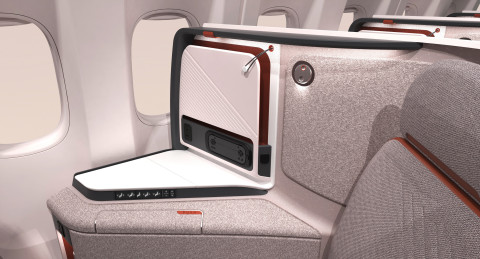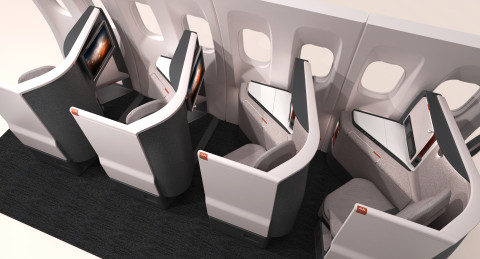 Changing World
Shifting focus in a post-lockdown world
As the world remained in lock down, it soon became apparent that the new generation of longer range narrow-body aircraft were becoming the focus for many airlines. Our initial focus on wide-body shifted to the narrow-body aircraft and how we could create a product with commonality across both.
The result led to a modular product that delivers a consistent outward facing herringbone layout in the premium cabin for narrow and wide-body aircraft – an industry first. The narrow-body seat matches all of the features of a wide-body Premium Class with exceptional living space, generous side furniture, and a full lie flat layout.
The pandemic drove a lot of research into hygienic surfaces incorporating anti- bacterial materials and easy-to-clean surfaces with minimal split lines. Doors were also included across both wide and narrow-body aircraft to deliver greater privacy. The lift and drop table mechanism is also common across narrow and wide body aircraft giving the same passenger relationship to the table on both aircraft platforms.
As we optimised the design around the new patented Scimitar seat mechanism we were able to create a super high density version of the Unum One that exceeded passenger counts of the current market leading Optima seat platform (also designed by Acumen).
Result
We continue to work with Unum designing their show stands at AIX in Hamburg. Unum ONE wide body and narrow body was launched at AIX 2022 receiving high levels of interest from press and airlines. Unum were able to use the show to gain valuable insights from potential airline customers to enhance the product. Increased shoulder space was one area which has been addressed for example.
Following the show in 2022 further improvements to Unum ONE were introduced in response to the feedback given at the show. Both seats now deliver a 21.5" wide seat that offers superior living space, the biggest bed and largest side furniture of any herringbone seat, whilst matching the density of any competitor product on the market today. They also offer airlines the ability to deliver a consistent PaxEx across any fleet – single or twin aisle.
Feedback from airlines pointed towards the need for Unum to expand their product portfolio to include other configurations. Significantly some airlines preferred inline seating products over angled herringbones seats. With many of the current aircraft seating vendors offering different variants of inline facing seating – Unum tasked Acumen to create another product format that would offer the same level of comfort, space and passenger experience as Unum ONE.
Unum TWO is a new inline product that takes the same sustainability philosophy and modular design approach as Unum ONE. The inline staggered seat offers both social middle seats and more private solo seats across the wide-body cabin – and at a density that is parity with the best in the current market. The new portfolio of products - Unum ONE, Unum ONEsa and Unum TWO are positioned to offer a credible alternative in the market. The innovative Scimitar seat mechanism is the 'comfort hero' and features in every one of Unum's products.
The unique kinematic of the seat delivers multi-layer comfort to the passenger – infinite adjustability, lumbar support when you need it, a remarkable Zero-G movement, all while delivering a much more spacious footwell. Each seat family offers unique variations enabling airlines to customise and tune their Premium Class product with an optimal blend of guest experience and layout efficiency across multiple aircraft types.
"When I set up Unum to be the credible alternative in premium class lie flat seating in 2020, I recognised that we would require the support of experts, to create a distinctive proposition for both our company and products. In Acumen, we have found the ideal design partner with decades of experience in aviation cabin product development, and an open and collaborative working style that suits us perfectly."

Chris Brady

Founder & CEO

Unum