JetBlue, alongside its official design partner Acumen Design Associates, today unveils its A321neo business class cabin featuring the new Mint Suite and including Mint Studio, the airline's latest game changing innovation which will offer the most space in a premium experience from any U.S. airline.
A321neo cabin marks the debut of the new Mint Suite – offering unrivalled privacy and comfort for passengers heading back to the skies
The cabin includes Mint Studio, offering the most space in a premium experience from any U.S. airline
Cabin will be used for JetBlue's new transatlantic routes coming in 2021
The cabin will take flight on JetBlue's highly anticipated London flights this summer, and a smaller layout will debut on a limited number of flights between New York and Los Angeles this year.
Building on the popularity of JetBlue's existing single Mint Suite – affectionately known as the "throne seat" – every seat in the new cabin now offers direct aisle access and sliding privacy doors. The cabin features 24 Mint Suites in an inward-facing herringbone layout, alongside two highly bespoke front-row seats known as Mint Studio.
JetBlue has a long-standing reputation for being bold when it comes to innovation and putting its customers at the heart of its brand, which was key in enabling us to reimagine the single-aisle premium experience. By reclaiming the unused space at the front row, Mint Studio offers customers an enhanced flying experience – one which will quickly become the gold standard for narrow-body business class.

Daniel Clucas, Senior Designer at Acumen Design Associates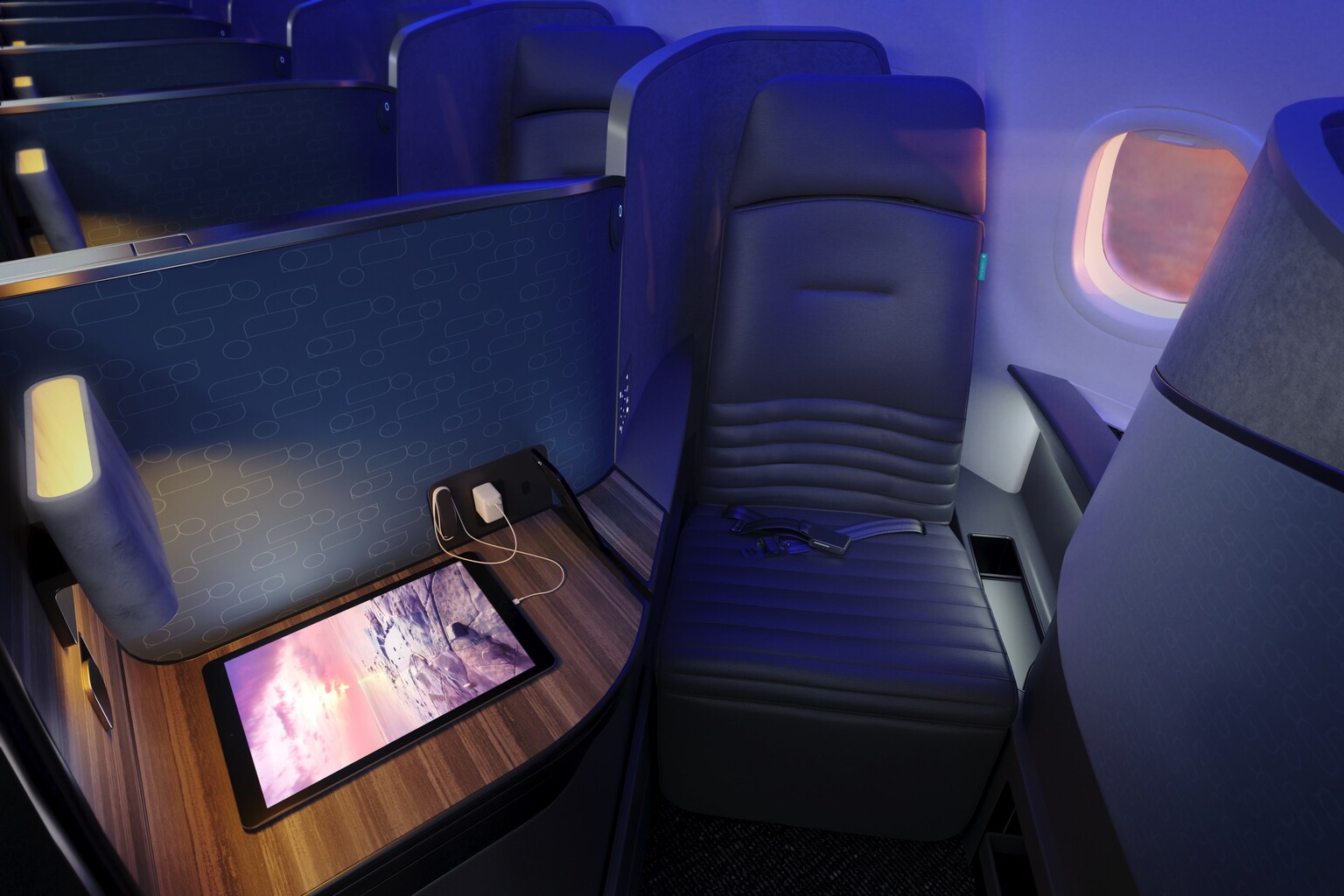 The age of seamless living
Every element of the cabin has been redesigned to meet the needs of modern travellers who want a seamless travel experience. JetBlue continues to offer free Wi-Fi onboard and each Mint Suite features intelligently placed charging points for laptops and smartphones, two headphone sockets, a dedicated phone/tablet holder, as well as a wireless charging zone. Acumen redesigned the suites to incorporate multiple large and easy-to-clean flat surfaces, to enable customers to eat, work and relax whilst simultaneously staying connected to their world.
Every available inch of space within the suite was used to provide dedicated stowage options including a laptop drawer, handy compartment for personal items, shoe and under-ottoman storage, and nightstand with a bottle holder. Acumen and JetBlue also developed customisable mood lighting which can be brightened or dimmed, as well as adjusted between "awake" and "relax" colour schemes, while each suite includes an 17-inch IFE monitor which can be used gate-to-gate.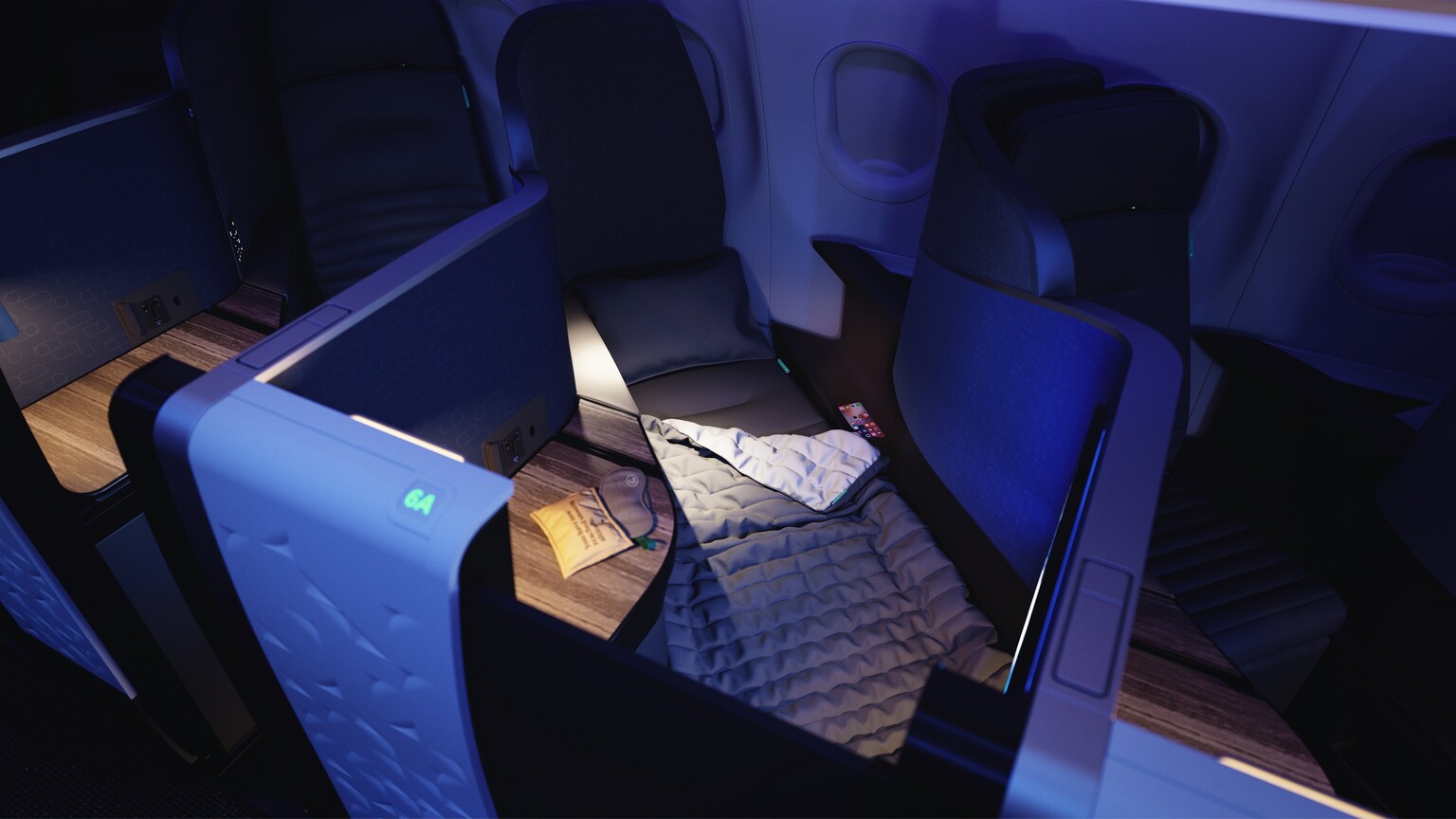 To bring a sense of New York's signature urban style to the skies, the interior design evokes a distinctive residential feel: using subtle mood-lighting; soft textured suede wrapped around the seat; a denim-style carpet; and a combination of stylised concrete and wood finishes to create an inviting and relaxed space. The inner walls of each Mint Suite feature a distinct, contemporary pattern inspired by JetBlue's brand language, while the suite doors incorporate a bold, pressure-formed Mint pattern.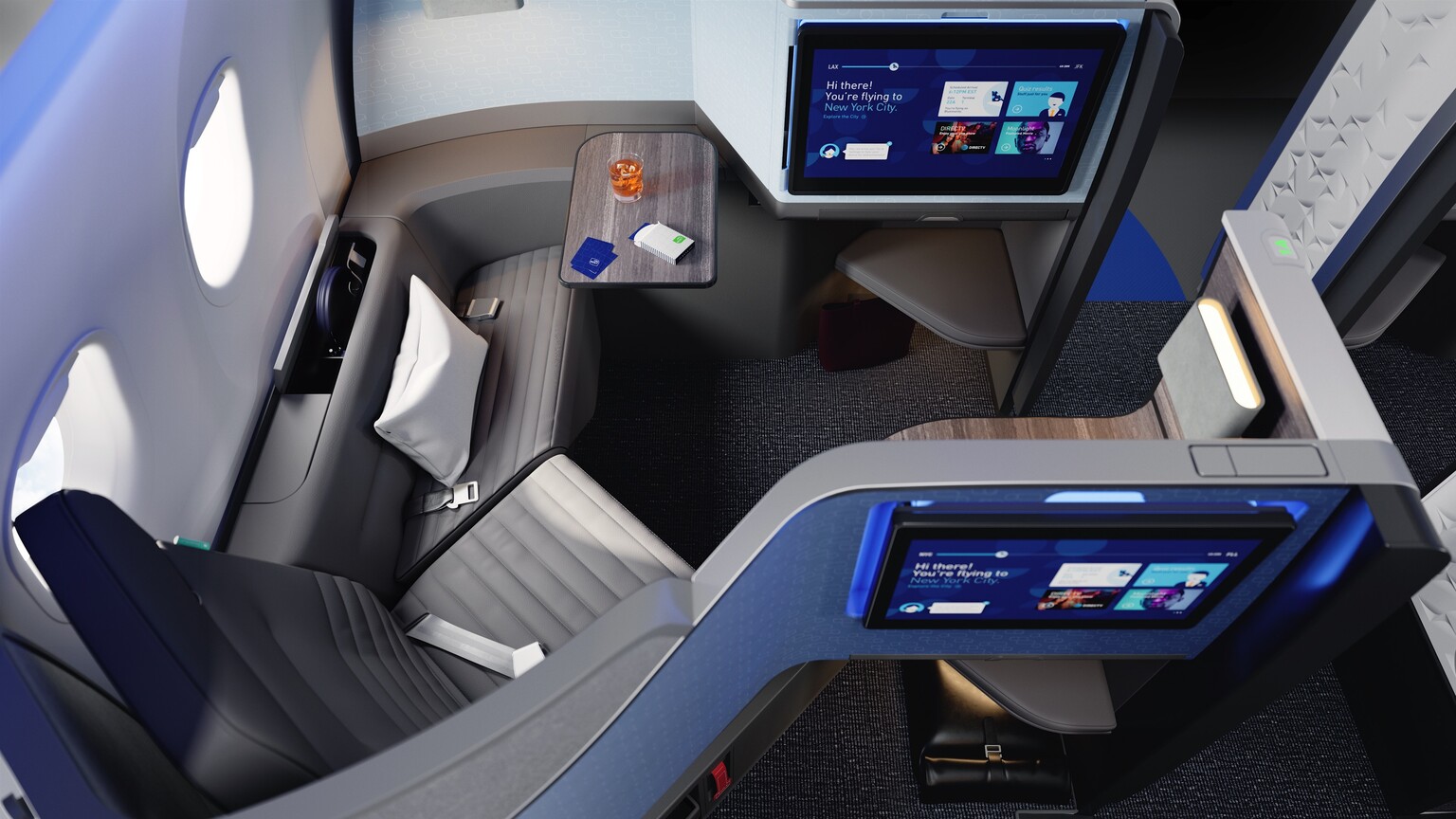 Introducing Mint Studio
Business class travel is changing, with more emphasis now placed on flexibility, privacy, and personalisation – alongside the critical issue of hygiene. With the new Mint cabin layout, Acumen identified an opportunity to reimagine the front row area, which is often used solely for additional cabin storage, and give this space back to the customer.
Mint Studio offers even more space and privacy and also includes a secondary guest seat and tray table to allow a second Mint customer to enjoy the suite and dine with their companion once at cruising altitude. When the seat transitions into bed-mode, the sofa seat can also drop - extending the bed surface and giving the customer the largest lie-flat bed of any U.S. carrier.
Mint Studio also features a sliding door for privacy, an integrated personal closet with a vanity mirror, a larger 22-inch pivoting IFE display, and second side table for storing personal items.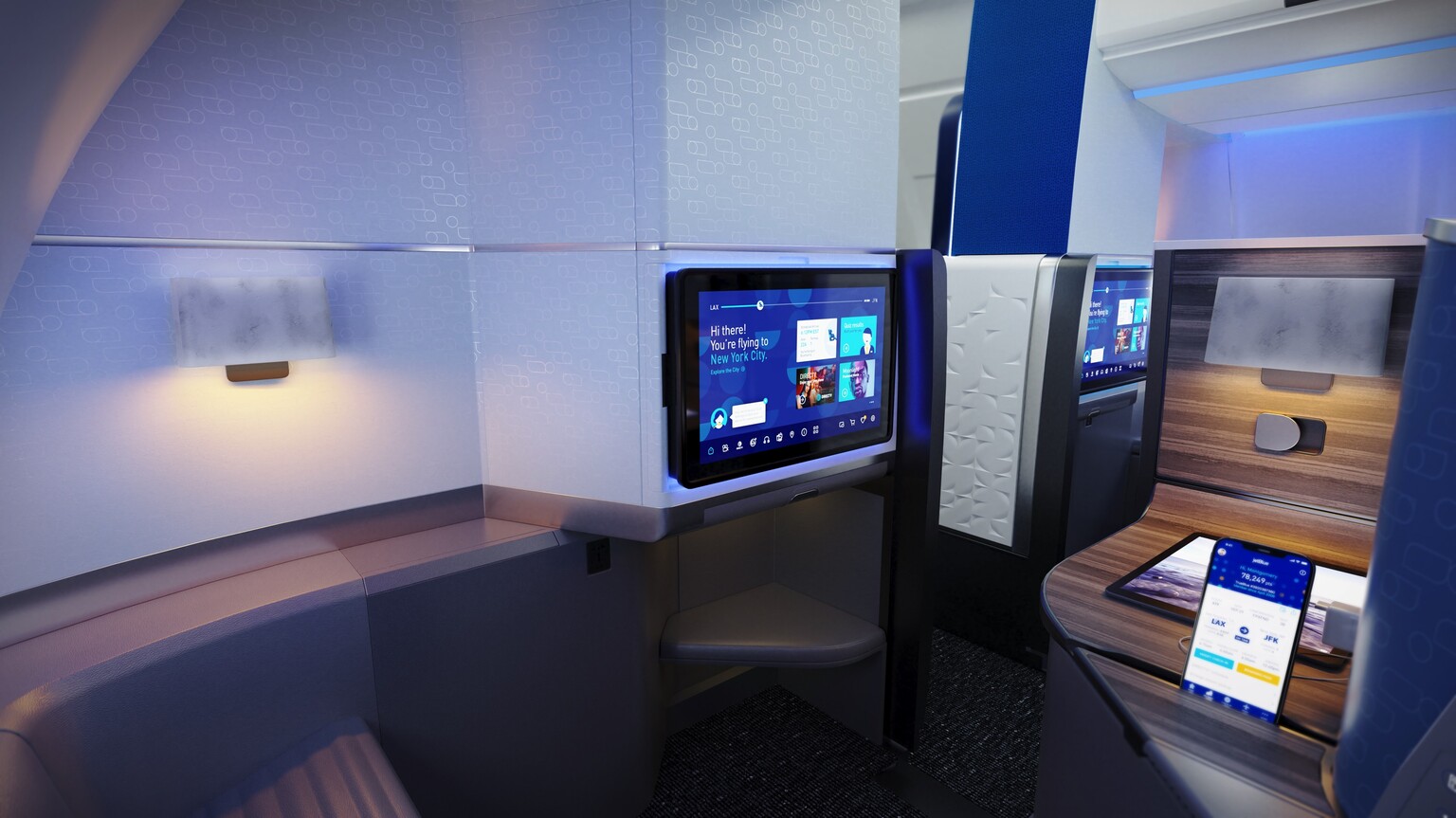 Putting customers first
When JetBlue approached Acumen in 2016, it had already selected the Thompson Aero Solo seat for its A321neo business class cabin but wanted Acumen to customise it, based upon customer feedback from their current Mint product. Acumen redesigned the Solo product and during the process invented the larger front row seats, which became Mint Studio. These modifications and customer enhancements are now a core part of Thompson Aero's Solo platform seat product.
As part of their long-standing partnership, Acumen also worked closely with JetBlue to customise the entire onboard customer journey; from boarding the aircraft into the signature "welcome space" which features LED strip lights and striking graphics, to the new Mint Suites.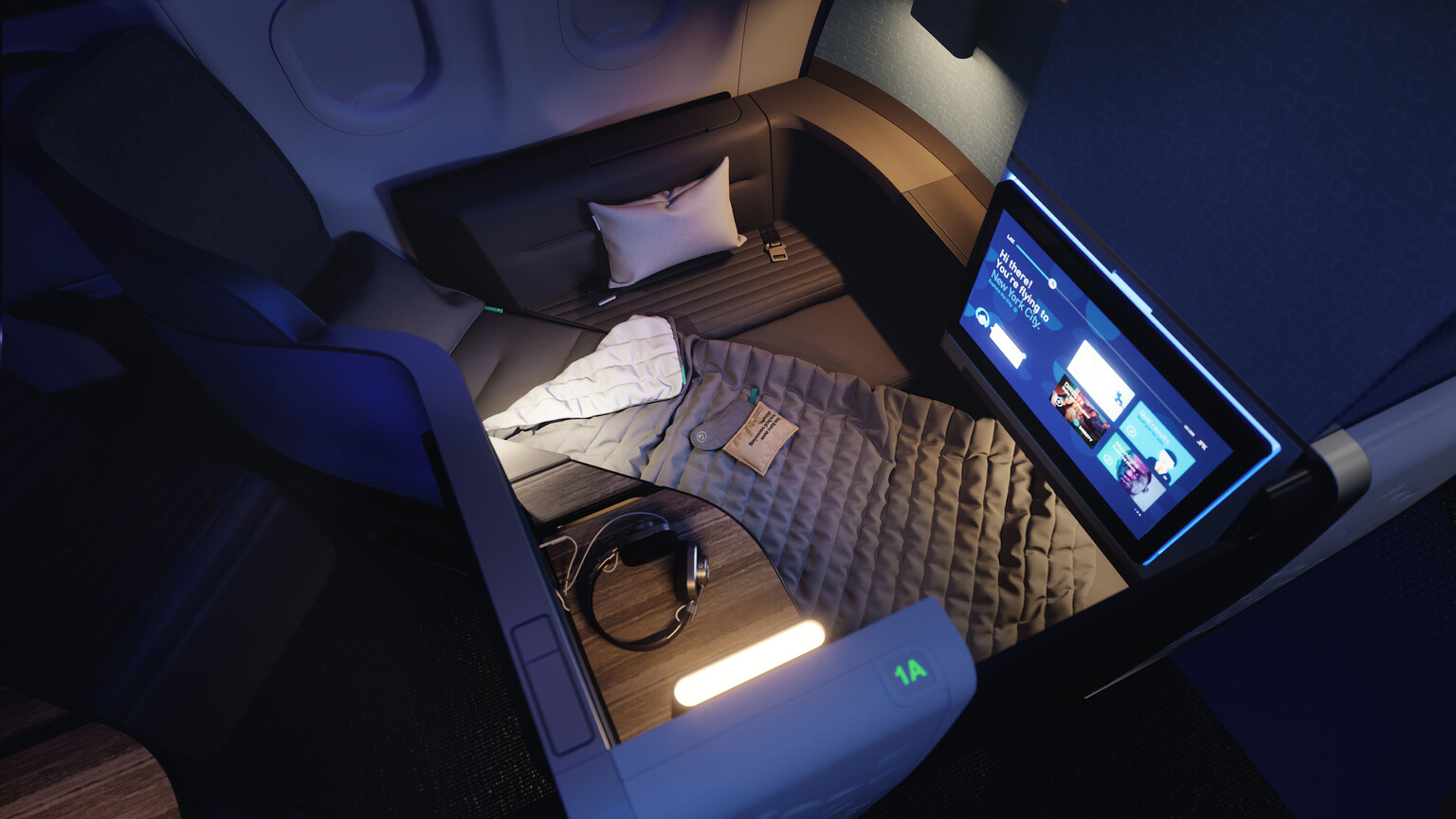 We are thrilled to have partnered with Acumen to completely reimagine the Mint cabin experience. Mint's thoughtful design has resonated with so many customers over the years, and we are looking forward to bringing this next evolution of our award-winning premium product across the pond later this year.

Mariya Stoyanova, director of product development